Best Stone Look Tile Ideas
The Best Stone Look Tile Ideas
Stone Tile Depot represents: Our collection of stone-look tiles is among the best available online. Stone-look tiles are excellent choices for homeowners because these tiles have a wide range of variety. Thanks to advancements in tile production, stone-look tiles range from rich deep shades to lighter more earthy colors. We're going to break down the benefits of the most popular types of stone-look tile ideas so you make your tile selection with confidence.
The most popular styles of stone-look tiles are made of porcelain, ceramic, and vinyl. Each of these materials can help you achieve the luxury look of natural stone without making a hefty investment. Each of these materials is manufactured specifically to mimic the look of natural stone and each presents its own set of benefits.
Why Use A Stone Look Tile?
Natural stones like granite tiles and marble tiles look beautiful while adding opulence and style to interiors. While these features of natural stones make them attractive options, they are undoubtedly substantial investments. Many homeowners cannot afford to invest in natural stone, while others are put off by the extra maintenance natural stones require for upkeep. These reasons are large contributors to the lower use of natural stone compared to materials like vinyl, porcelain, and ceramic.
Porcelain, vinyl, and ceramic all are used to create stone-look tiles which mimic the look of actual stone. These other materials combine the luxurious aesthetics of natural stones with hardwearing practicality. In addition to these materials being durable and more affordable, there are additional benefits such as:
Easy Maintenance
Stone-look tiles made of porcelain, vinyl, and ceramic are far easier to keep clean. Travertine tile, marble, and other natural stones require far more maintenance than the average homeowner can handle. Stone-look tiles on the other hand are not as high maintenance- they can be wiped down as nicely as the day they were first applied for years.
If you want to learn more maintenance tips for your natural stones, check out our natural stone care tips!
Realistic Appearance 
These natural stone-look tiles are created with high-tech printing graphics that result in an ultra-authentic look. The advancements made in printing have made it possible to achieve a look that's hard to distinguish from real stone. When it comes to the texture and veining associated with marble and granite can be easily replicated using machinery. You can now go to the store or hop online to purchase porcelain and ceramic stone-look tiles that are as lovely as the real thing.
Stone Look Tile Patterns
Stone-look tile patterns are plentiful. With stone-look tile flooring, you can have a standard staggered pattern or go with something more visually dynamic. Some of 2023's eye-catching patterns for stone-look tiles are herringbone, chevron, and basketweave shapes. Stone-look ceramic tiles are capable of these patterns due to their ability to be shaped and painted to mimic the most luxurioıs types of stone.
Slate-look tiles and warm-look tiles are also good patterns to create your unique style, shop now!
Stone Look Tile In Bathrooms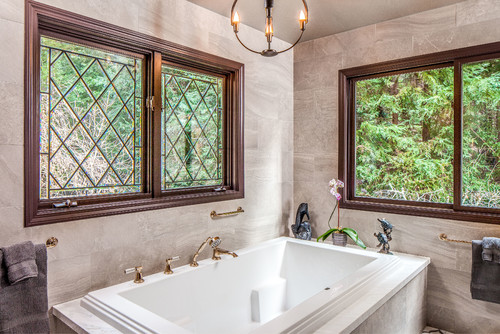 Bathrooms are the most common room for tiles inside the home. Small bathroom ideas with stone-look tiles work well because these tiles are easy to apply to small areas. You can think beyond flooring and also line the walls and shower interior with stone-look tiles. One creative way to maximize the trend is to extend the tiles from your hallway into your bathroom for uniformity. Thanks to advancements in textile production stone-look floor tiles featuring hexagons and other intricate mosaics are popping up in bathrooms everywhere. In addition to hexagon stone-look tiles, you will find a wide selection of squared mosaics emerging.
Stone Look Tile in Kitchen
Natural stone can be stunning in kitchens, but it tends to be too high maintenance for many homeowners to adequately care for. Kitchens are so heavily used that real stone floors would be frequently stained and need too much aftercare. Keeping real stone floors clean and sealed in a kitchen will be to taxing for most, therefore it would be best to have ceramic or porcelain stone-look floors.
Stone Look Tile in the Bedroom
Stone-look tiles in bedrooms look beautiful and create a relaxing atmosphere. Stone-look tiles can give your bedroom a makeover that resembles the most luxurious outdoor oasis. Rich slate effect stone-look tiles are excellent for such transformations. The opposite approach can be achieved with and select a light shade of marble-look tile and creating a design that is penthouse chic. The high-quality prints available in porcelain, vinyl, and ceramic will give you plenty of luxury options.
Stone Look Tile Ideas 2023
One day in the future stone-look tiles will be seen as a classic staple in many homes. Thanks to the trends of 2023 design ideas with stone-look tiles will continue flourishing. Full living rooms, bathrooms, and kitchens are getting facelifts using stone-look tiles, catapulting the trend into a mainstream design concept.
Here are the most stylish and creative alternate materials used to achieve a realistic look with stone-look tiles.
Porcelain Stone Look Tiles
Stone-look porcelain tile has so many wonderful attributes. Porcelain is hailed as one of the most useful flooring materials because it is versatile, durable, water-resistant, and easy to keep clean. Factoring these benefits into the mix with a tile that's finished to resemble stone and you've got one fantastic product. Flooring that mimics slate, granite, marble, travertine, and limestone is each possible thanks to natural stone-look porcelain tiles. Stone-look porcelain tiles come in a wide range of options so you can even have your stone-look tiles in patterns that create mosaics.
Don't forget that porcelain stone-look tiles are a good option for your outdoor areas. Take a look at our porcelain paver ideas!
Ceramic Stone Look Tiles
Ceramic stone-look tiles are very similar to porcelain stone-look tiles. However, ceramic tile options may not be as long-lasting. Ceramic provides another great affordable option if you cannot invest in genuine stone tiles. Much like porcelain, ceramic stone-look tile is also easy to maintain so you can get a great deal on stone-look flooring that will look amazing.
Both porcelain tiles and ceramic tiles are materials as stone-look tiles, check out our porcelain or ceramic tiles blog post to decide which one is the most suitable choice for you.
Vinyl Stone Look Tiles
Vinyl stone-look tiles are a lesser-discussed material that has plenty of options to recreate the look of natural stone. Luxury vinyl stone-look tiles are printed in the same way that porcelain and ceramic tiles are made. Luxury vinyl tile is extremely comfortable for walking so you can enjoy living life in your home with ease of care. These tiles are the most affordable way to get the sophisticated look of real stone with a tight budget.