7 Efficient Ways To Decorate Your Small Bathroom With Bathroom Tiles
When it comes to interior design projects, nothing can be more daunting than tackling small spaces. Small bathrooms present a unique challenge because their size and layout make it difficult to narrow down the best colors, materials, and patterns to use. Small bathrooms can easily look cluttered or overdone without a style game plan to use tact and creativity in the space.
Fortunately, we have picked the brains of today's best interior designers to compile the most fun and chic small bathroom tile designs for you. You can use this article as a guide to get started on redesigning your tiny bathroom. Or, take one of these small shower and bathroom tile designs and make it your very own. Simply use the suggested products as a starting point and then incorporate your choice of fabrics, metals, and accent pieces to create a one-of-a-kind space in your home. You can thank us later.
There is no one shade or style of tile best for small bathrooms. The best tile for your small bathroom will greatly depend on your personal style, budget, and desired result. We really hope that you will find inspiration in one (or more) of these tiny bathroom tile ideas to renovate your bathroom.
1. Go for a White or Bright Motif
In small bathrooms, you cannot go wrong with colors that keep the space feeling bright and airy. Tiny bathrooms can quickly look smaller if colors and patterns are used haphazardly. Sticking to crisp white tiles in small bathrooms will help you avoid this mistake. Additionally, they allow for pops of color to be incorporated in other ways.
This white ceramic tile is an excellent choice for a tiny bathroom that needs bright walls. You can lay these stunning beauties in either a vertical or horizontal subway format and pair them with other tiles for visual contrast.
Our off-white polished terrazzo tile has a slightly more complex finish thanks to the warm gray and beige flecks of marble in each tile. The marble chipping in the design adds a layer of warmth to an otherwise simple white tile. It can be dressed up or down with metallics, wood, or even matte fixtures.
This wood-look porcelain tile has a gorgeous natural white color that will keep your bathroom feeling bright and open while adding a rustic touch. As these tiles are not stark white, you can achieve a more nature-inspired result while maintaining versatility.
You don't have to use squared or subway tile for your tiny bathroom. Instead, consider going geometric with a style like these large-format hexagon porcelain tiles. They will adorn your bathroom walls with the bright backdrop your small space needs while adding a touch of visual distinction.
Don't be afraid to install 12×24 tiles in your small bathroom. Our 12×24 white polished marble tile packs a huge punch in terms of brightness. As a bonus, the subtle gray veining will ensure that your space sparkles.
2. Go Against the Grain with a Stone Look
Stone-look tile in small bathrooms is highly underrated if you ask us! Tiny bathrooms rarely feature this fun nature-inspired look. We think more homeowners should consider the trend. One way to pull off this look without going overboard is to use the tile for accenting.
This mixed polished pebble mosaic is brilliantly paired with wood-look tiles and other natural elements in this design. The use of mosaics around the bathtub and on the shower floor serves as the perfect accent to this space. Stone tile in a small bathroom can be done tastefully and works wonders.
If you wonder what else you can add for your bathroom here are some amazing marble mosaic options:
3. Select an Elegant Marble Tile
Large tile in tiny bathrooms works well especially when they are made of luxury materials. This polished marble tile is a great way to use large-format tiles in a small bathroom. Large tiles keep small bathrooms from appearing cluttered with cleaner lines and less visible grouting. Consider going big with these 24×24 tiles in a small bathroom.
4. Embrace a Bold Mosaic Style
Mosaics for small bathrooms are a popular choice, since they come in a good tile size for small bathrooms. This time, we suggest you be adventerous and go bold with your color.
Black may seem counterintuitive in a small bathroom. However, this black hexagon mosaic tile for a small bathroom is awesome when strategically placed.
This black-and-white checkered mosaic tile is an example of how fabulous black mosaics look in bathroom showers, bathroom floors, and bathroom walls.
5. Make a Statement With Patterned Tile
Although patterned tile in small bathrooms may require a strategic placement to work in small bathrooms, when done right, it can look incredible. The key to using patterned tile in small bathrooms is to use them sparingly without overwhelming the space. A tiled accent wall or a patterned tile floor with neutral walls works well even in your shower floor tiles.
Our hexagon patterned porcelain tile has the look of an encaustic cement tile for a chic, retro vibe. Porcelain tiles, due to their durability, are some of the best floor tiles for small bathrooms. This tile's fan-like pattern visually extends the space, making it seem larger.
Our black-and-white patterned cement tile boasts bold patterns that can elevate a tiny bathroom with its unique take on color and design. It suits dark-themed rooms with a classic look.
6. Explore the Wonders of Porcelain
Porcelain is incredibly versatile and this fact applies to its uses in small bathrooms. It's a durable tile that is both easy to maintain and waterproof.
Our aquamarine polished porcelain tile is a wonderful way to add tropical color to a small space. Tiny bathroom tile ideas don't have to be limited to white, black, or gray. Blue can get the job done too.
Green is another shade that can liven up a small bathroom. Apply this vivid forest green polished porcelain tile to your tiny bathroom and infuse the glow of nature with additional green accents.
7. Try the Classic Combination of Black, White, and Gray Tile
This addition to our stylish list of small bathroom tile design ideas is featured as a vibrant family transitional bathroom that's decked out in glossy white 3×9 ceramic wall tile, laid in a traditional subway tile pattern. This stunning black white and gray bathroom makeover also features rich and sophisticated black-honed marble tile on the floors and a breathtaking black 1×1 mosaic marble shower floor. You can't find a better or more timeless color combination than black and white. The pairing always brings a level of diversity and class that is hard to achieve with other color pairings.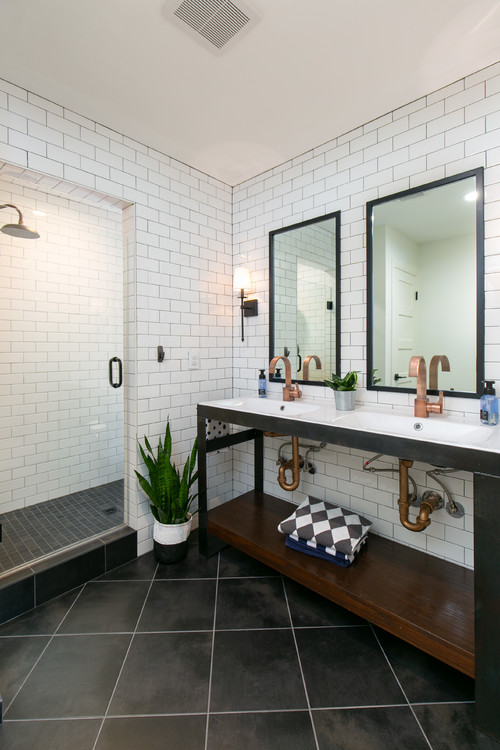 This second design is another spin on the gray, white, and black motif in this more traditional bathroom renovation. The stunning flooring used on this renovation is our Carrara t-honed polished basket weave marble and available as a Carrara t-honed basket weave marble. The style showcases white basketweave tiles with a hint of black to accentuate the pattern.
The luxurious tile used for the shower walls is none other than our Carrara t-honed marble applied in a subway tile layout. The vivid black and grey veining in this formulation of marble pops against the black accents of the basketweave floor tile to create a harmonious result. Lastly, the designers made a fabulous choice to incorporate more gray into the design and break up the black and white by adding our thala gray-honed limestone tile to accent the bathroom drawers and cabinetry.
Which of These Small Bathroom Design Ideas is Best for You?
We have provided you with the latest and greatest ideas available in 2023 for innovative small bathroom makeovers. Feel free to take inspiration from one of these amazing tiny bathroom designs or piece several concepts together for an even more personalized small bathroom tile idea.
We have hundreds of versatile high-quality bathroom tiles that will make a lovely addition to your home. Explore our selection today.