Don't Buy Outdoor Travertine Tiles Before You Read This
Outdoors or indoors, travertine tiles are a timeless design choice that has been popular for decades. Its natural, earthy tone is available in a range of beige, brown, and silver shades, making it highly adaptable and versatile. Moreover, it is one of the best tiles to hold up against the outdoor elements.
For 2024, silver travertine tiles and white travertine tiles are two of the most trending outdoor tile designs. On the other hand, if you're seeking a more organic-inspired design, then embracing the look of beige travertine tile and brown travertine tile is a great choice.
Here is everything you need to know about outdoor travertine tiles, from pros and cons to design inspo ideas.
Outdoor Travertine Tiles Advantages
First, let's go over the advantages of travertine tiles:
1. Long-Lasting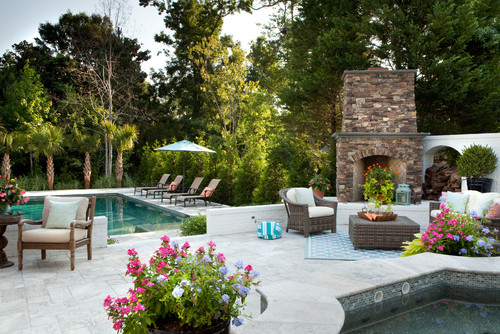 Photo by Tongue & Groove Design + Build – Search patio pictures
One of the main advantages of travertine tiles is their long-lasting property. The favorite stone among ancient Romans to build their iconic buildings, travertine stone has been known to last a long time outdoors and hold up against the elements. Their durability makes them suitable to suit a range of indoor and outdoor applications in many different kinds of weather and extreme temperatures.
2. Price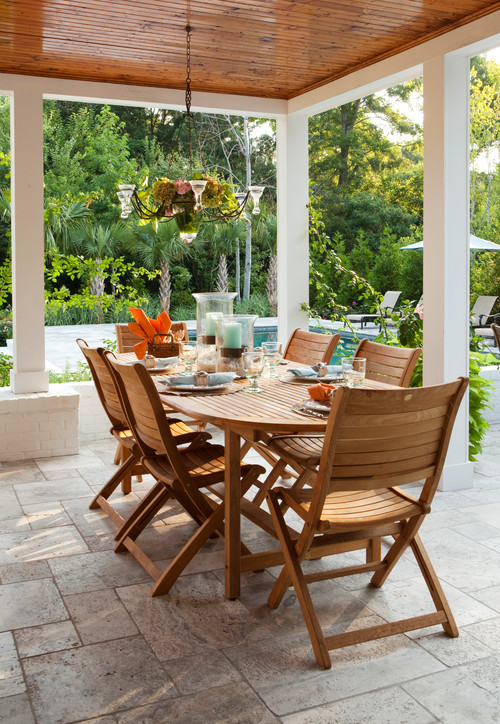 Photo by Tongue & Groove Design + Build – Search patio pictures
Compared to other natural stone like marble or granite, tile travertine is available in a range of affordable, budget-friendly options. If you're seeking to re-do your entire patio or pick a poolside tile, then travertine flooring is a great option that will not break the bank. Moreover, its durability and longevity makes it a good investment that will last a long time.
3. Anti-Slip Flooring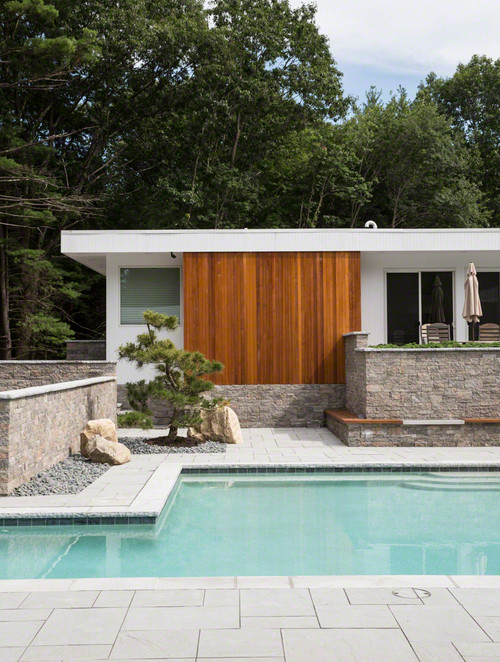 Photo by Stephen Chung, Architect – More pool photos
Travertine tile floors are a fantastic option for wet areas because they have a rougher, anti-slip texture. We recommend going for a tumbled travertine tile or antiqued travertine tile for travertine poolside applications. In contrast, polished travertine tiles and honed travertine tiles have a sleeker finish but are more slippery when wet. Choosing the right finish for your travertine tile depends on your desired area of installation.
4. Rustic Appearance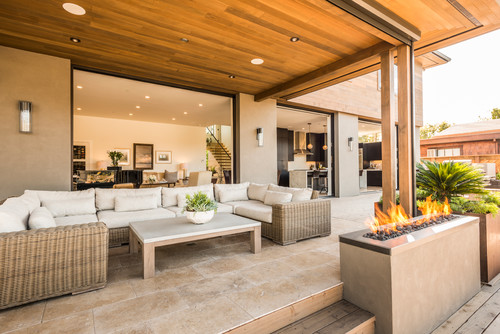 Photo by Dorman Associates, Inc. – Browse patio ideas
Travertine floor tiles and travertine wall tiles have an effortlessly earthy, rustic apperance that fits in seamlessly with the outdoors. They come in a range of natural shades, including beige, brown and silver. Moreover, they work well with a variety of design styles, from rustic to modern. Take the above image as an example of modern travertine tile floors.
5. Easy to Install & Repair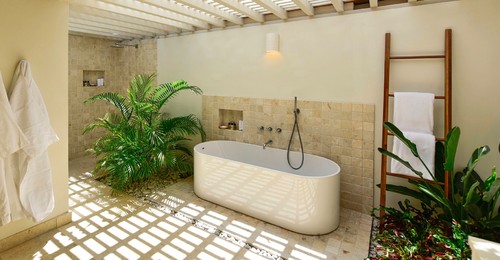 Photo by wuilliez design – Browse bathroom photos
The final advantage of outdoor travertine tiles is that it is easy to cut and shape. Therefore, not only are travertine tiles easy to install, but they can be cut to fit small spaces easily. If a tile ever breaks, rest assured you can replace it.
10 Best Outdoor Travertine Tile Ideas 2024
Now that we've gone over the advantages of outdoor travertine tile, here are some design ideas to transform you outdoor space.
1. Tumbled French Pattern Travertine Pavers
These French-pattern travertine tiles combine different tile sizes for a medieval pavement look. They're a perfect fit for natural exteriors and poolside due to their tumbled finish. The perfect blank slate, travertine outdoor tile works well with a variety of styles and designs. Consider embracing the organic modern look by combining natural and contemporary styles, or embrace tradition with an earthy design.
2. White Silver Travertine Tiles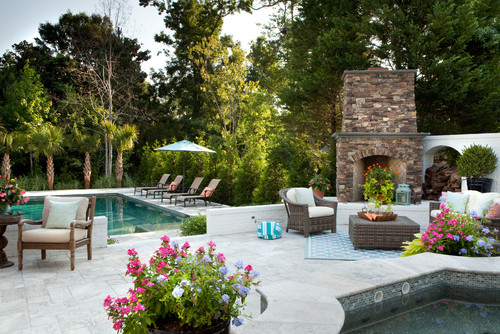 Photo by Tongue & Groove Design + Build – Search patio pictures
White travertine tiles and silver travertine tiles are two of the most popular outdoor travertine tile trends of the past few years. Their minimalist, light design brightens spaces and looks beautiful when offset against lush gardens and poolsides.
3. Classic Antiqued Square Travertine Tiles
This travertine tile flooring is a true timeless classic. A symmetrical square travertine floor tile, it is great for outdoor patio applications, poolside installations, and more. If you're seeking something understated and classic, this travertine floor is the right one for you. Its antiqued finish is a cross between the rough texture of a tumbled finish and sleek honed finishes.
4. Tumbled Square Mosaic Travertine Tiles
This square travertine tile mosaic is one of our personal favorites. It recalls the stunning look of ancient Roman ruins and adds a charming, antiqued look to exteriors. The tumbled finish of this 12×12 travertine tile is ideal for poolsides due to its anti-slip properties, but these tiles also work beautifully as travertine tile wall installations.
5. Outdoor Travertine Wall Tiles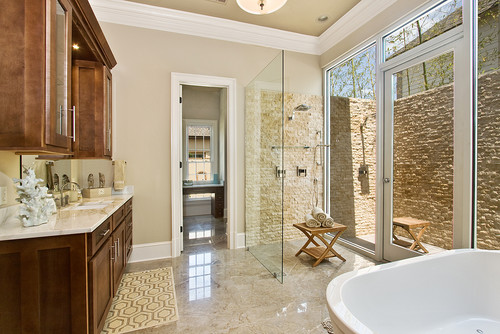 Photo by Maria Barcelona Interiors, LLC – Look for bathroom pictures
Last on our list of travertine tile outdoor ideas is a rockface travertine wall tile. Note how the image above seamlessly transitions from the indoors to outdoors with a travertine tile wall. Polished travertine tile floors complete the look of the indoor bathroom.
Outdoor Travertine Tiles Disadvantages
Before committing to travertine tiles, there are a couple of disadvantages to consider:
1. Porosity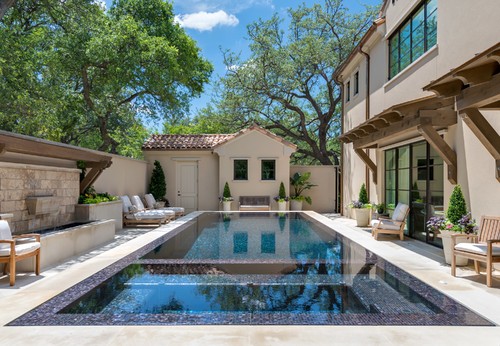 Photo by Harold Leidner Landscape Architects – Browse pool photos
One of the biggest disadvantages of travertine floors is their porosity due to their large holes. Over time, the holes can be worn down and collect dirt. However, there are honed travertine tiles or polished travertine tiles, which are sealed.
2. Staining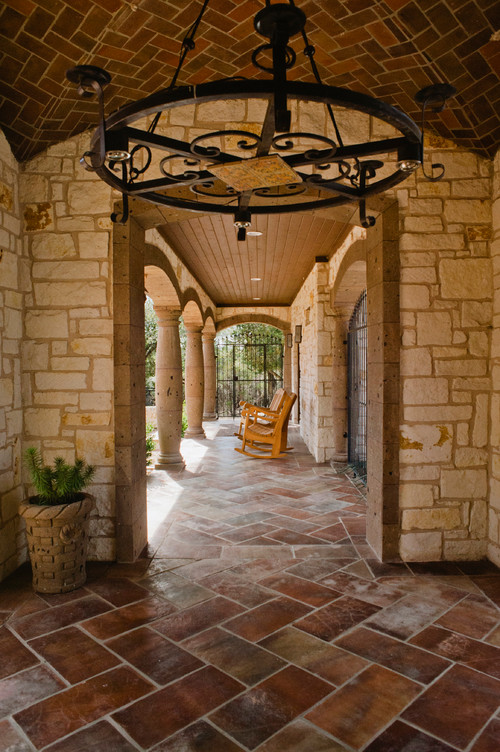 Photo by Rustico Tile & Stone – More porch photos
Like many natural stones, travertine tiles are susceptible to staining from acids due to its porosity. Make sure to regularly re-seal your travertine flooring to safeguard it against staining and be sure to clean up any spills quickly.
Conclusion
Travertine tiles are a great option for outdoor installations due to their durability and versatility. Travertine tiles are available in a wide range of earthy shades and finishes. An ideal fit for patios and poolside applications, travertine tiles outdoors are affordable with a natural, organic look.
Stone Tile Depot offers a range of high-quality, contemporary travertine tiles at affordable prices. Shop the entire range of travertine tiles online today.