Matte Black Tile Design Trends for Your Home
Are you going bold with your home design? Are you thinking of using black tile? Use our insider tips to discover just how chic black matte tile can look in your newly transformed space.
What Is Matte Black Tile?
Matte tile is any material of tile that is left unpolished or unglazed. The finish of matte tile gives off a more subtle and rustic look that is great for motifs that require a more natural-looking material. Matte black tile can be any type of natural stone or clay-based tile that is unglazed.
What Are the Advantages of Matte Black Tile?
Matte tiles offer slip protection that is superior to glossy and glazed tiles. The surface of matte tiles has better friction, making them better suited for wet areas like bathrooms. Black matte tile provides this anti-slip benefit while amping up the boldness in any given space.
How to Choose the Best Matte Black Tile
Consider the style of your home
Each and every home has its own signature style and your home is no exception. If you have an eclectic sense of style you may want to think of adding patterned tile. A funky addition to your space could include matte black herringbone tile or black tile in a fun geometric style.
Consider the color of your home
Black is a color that will look good paired with many other shades, however, it is important to assess if your home's current color scheme works with black tile. If so, you can incorporate the tile into your current aesthetic with ease. However, if the colors in your home are off you may have to make additional design changes.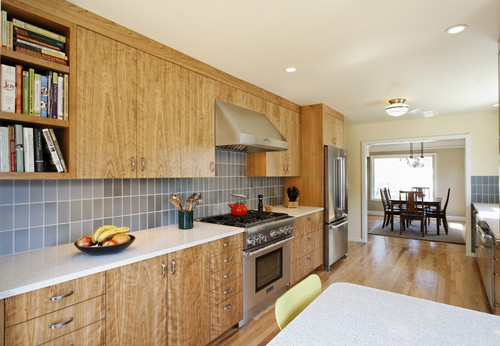 This wood-centric kitchen features a subtle matte black backsplash that allows the warmth of the wooden cabinetry and accents to shine. If you are inspired to use natural materials, remember that wood looks amazing and down home with black tiling.
Consider the size of your home
It's important to note that black tile can make small spaces look and feel even smaller. If your home is modest in size, you won't want to go overboard with black tile. Instead, opt for using black tile in small areas or using black tile edge trim as an accent to brighter colored tile. Conversely, black tile can be used to make open spaces feel cozier and put together in larger homes.
Consider the texture of your home
Black matte tiles look good paired with other subdued textures and with shiny sleek fixtures, so you can enjoy them in your home with either motif. Matte tile complements earthy elements and allows more glitzy accents to shine brighter. Either way, you can make matte black tile work in your space.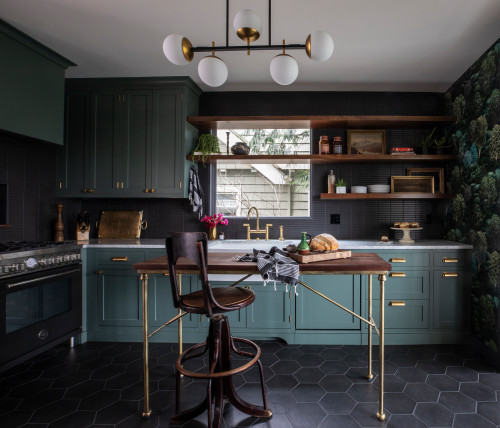 This stunning eclectic kitchen is a tastefully done double dip of matte black tile. Designers who fancy rich colors and patterns will enjoy using those elements against matte black tiles. This kitchen also showcases gleaming gold fixtures to complement the dark palette of this design.
Things To Consider When Choosing Matte Black Tiles for Your Home
The type of tile you want: porcelain, ceramic, or natural stone
Tile material is a big decision that heavily relies on budget, function, and style preferences. Ceramic tiles and porcelain tiles are usually less expensive, but natural stones provide a more high-end result.
Consider which factors matter most and determine what material will give you the most bang for your buck. black porcelain tiles and black ceramic tiles offer durability and are better suited for homes with high traffic. These two materials are also easier to maintain than natural stone.
Matte black tiles in natural stone materials like granite, marble, and slate are pricier but can last comparable lengths of time with proper care.
The size of the tile: small, medium, or large
The size of the tile you choose should align with the space you're working in. Large matte black tiles look good in both large and small spaces. Medium-sized tiles can work in both large and small spaces with proper application. Small tile is best for large to mid-sized designs that want to incorporate a matte black mosaic look.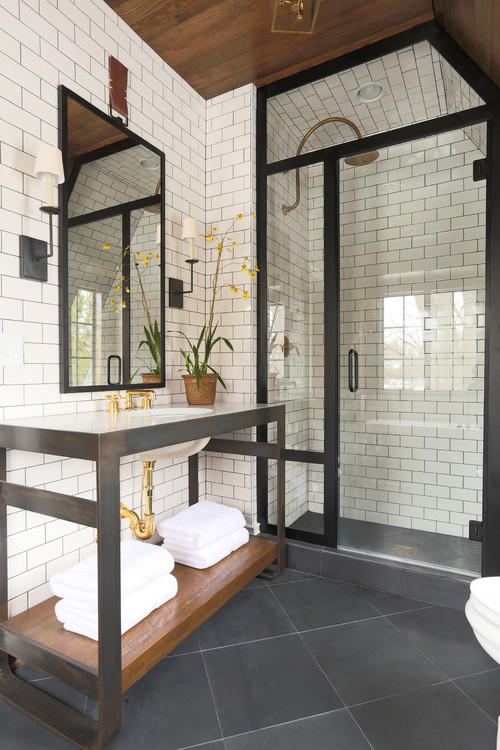 This simple, stylish bathroom features mid-sized matte black floor tile against beautiful white subway wall tile and rustic wood furniture. The combination of black and white tile is a pairing that remains popular in all areas of the home.
The finish of the tile: glossy or matte
Here is another great example of matte black hexagon tile against a crisp white bathroom aesthetic. In this vibrant modern bathroom, white and black tiles are used for drastic visual contrast.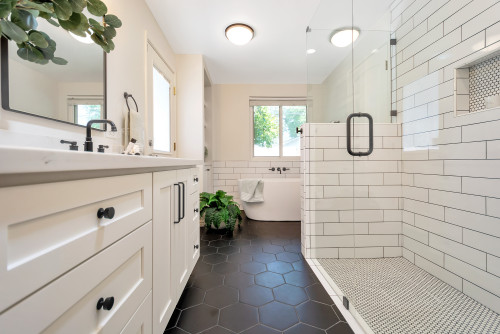 Photo by Mariano & Co., LLC – More bathroom ideas
Our Black Honed Marble Tile is an also excellent choice for modest sophistication. You cannot go wrong when selecting black matte tile for your interior space. Matte black tiles offer a hint of style that's understated while remaining lovely to the eye. If you prefer tile with a glossy finish there are plenty of stylish options for that as well.
The price of the tile: cheap, mid-range, or expensive.
Tiles will range in price from cheap to expensive. Vinyl is a material that offers an affordable option for homeowners on small budgets while delivering on aesthetics. Vinyl tile also has options for matte black peel-and-stick floor tile — so it can be applied at a low cost.
Mid-range black tile includes materials that are higher in quality and higher in costs and installation. Mid-range tiles often consist of matte black mosaic tile, matte black ceramic tile, matte black terracotta tile, and matte black porcelain tiles.
Natural stone tiles tend to be the most expensive option for every color. Homeowners with larger budgets tend to opt for the high-end look of matte black marble tile or black granite.
Tips for Choosing the Right Matte Black Tile for Your Home
Choose a tile that is durable and easy to clean
Black tile is a bold color choice that's underutilized in interior design. It looks good in so many spaces and can enhance the visual depth with its deep tone. Not many homeowners envision using black subway tile backsplash to lift the mood of a space — but it's a great idea!
Black tile comes in some of the most durable materials imaginable, but it's best to stick to a material that's also easy to clean like granite.
Choose a tile that is the right size for the space you have
It is crucial to select a matte tile that suits the size of your space. Small spaces look more spacious with mid-sized tiles, and tiles that add visual dimension. A small bathroom for example would look stunning with a mid-sized black hexagon floor tile. Our Black Hexagon Matte Porcelain Tile is an excellent option that's durable enough for floors and walls.
Matte Black Tile Is Effortlessly Chic
Black tile is far from boring — explore our selection of black matte tile to get your creative juices flowing. We're confident that you will love the options we have available.