Basket Weave Tiles: All You Need To Know Explained With Images
When it comes to unique bathroom tile ideas, basket weave tiles are certainly underrated. Timeless and versatile, they suit a wide variety of bathroom and kitchen designs, from traditional to modern.
What Is Basket Weave Tile?
A type of mosaic tile, basketweave tiles have a unique interwoven pattern that links together. They're a great way of adding dimension to any room, whether they be for a floor or wall. Although basket weave bathroom floors are a classic choice, you can increasingly find basket weave tile backsplash installations.
A timeless mosaic tile that has remained popular to this day, basketweave tile patterns come in a variety of styles and finishes. One of the most popular types of basketweave tiles are basketweave ceramic tiles and basketweave mosaic tiles.
Most Popular Basket Weave Tile Ideas
1. Neutral Basketweave Tile
We start off our list with a soothing basketweave tile option. This beige-gray marble basketweave tile has a harmonious, neutral color scheme that pairs beautifully well with a range of natural stone countertops like marble or limestone.
2. Gray Basketweave Tile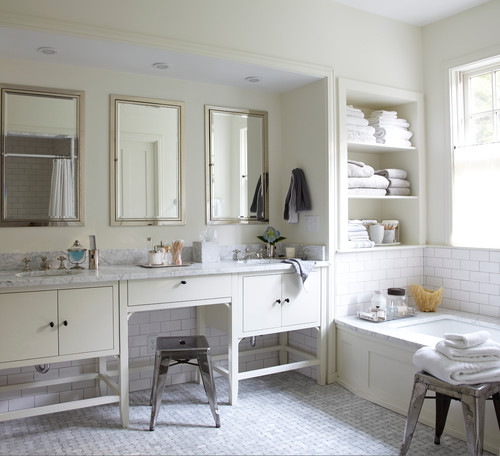 Photo by JAMES DIXON ARCHITECT PC – Look for bathroom pictures
If you're in search of something more cool-toned, then consider going for a silver basketweave tile floor that compliments a white bathroom. While the image has a classic, vintage bathroom design, this type of tile basketweave would suit a modern, contemporary bathroom just as well.
3. White & Blue Basketweave Tile
This white and light blue basketweave mosaic tile creates a bright, open atmosphere in spaces. Perfect for basketweave bathroom floor installations or as a bathroom vanity backsplash, this white basketweave tile is the definition of minimalist.
4. Dark Gray Contrasting Basketweave Tile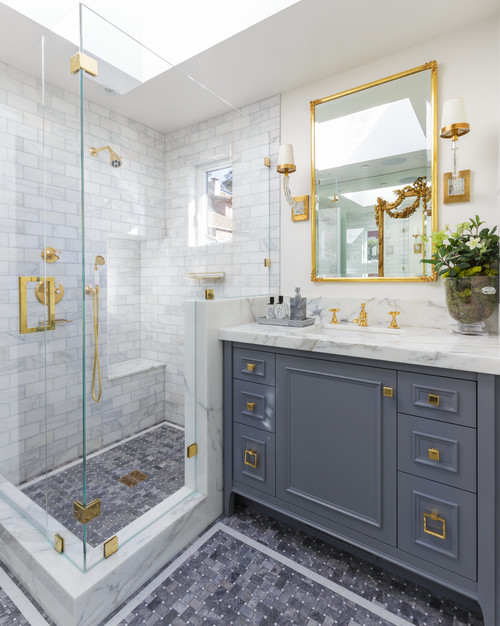 Photo by Laura Hunt Design – Search bathroom design ideas
For darker basketweave tile pattern ideas, this dark gray basketweave tile is nicely contrasted with dots of white. A twist on classic basketweave tiles, it offers a contemporary design for bathrooms and kitchens.
5. Marble Green Basketweave Tile
Absolutely stunning, this natural pale green marble basket weave tile is one of our personal favorites. A great way of adding a gentle touch of color to a space, it looks incredible as a basket weave backsplash design. Pair with an organic interior design scheme.
6. Classic Black & White Basket weave Tile
This black and white basket weave tile is one of the most traditional types of basketweave tile options available. A timeless and unique tile, it is a perfect match for bathroom floors and offers an alternative to classic penny tile bathroom floor designs.
7. Basketweave Bathroom Floor Tile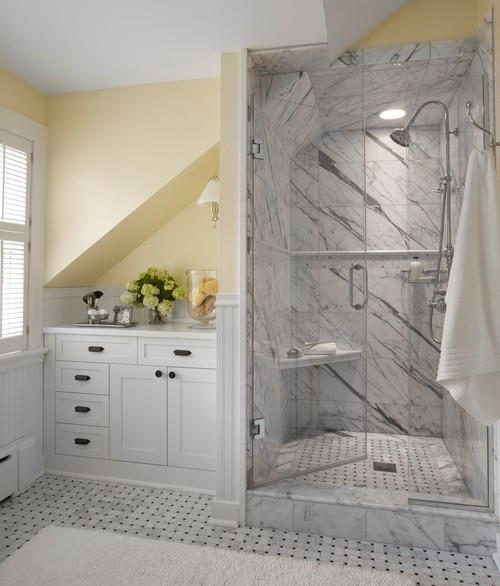 Photo by Janet Mesic Mackie Photographer – Search bathroom design ideas
The bathroom pictured above is the epitome of elegance with its gray marble basket weave tile floor, marble tile shower wall, and white cabinets. The result is a harmonious look that ties the whole room together.
8. Warm White Basketweave Tile
For a touch of warmth, consider choosing a warm off-white basket weave tile. The hints of caramel in this basket weave tile pattern imbue the room with a welcoming atmosphere. Install this as a basket weave backsplash tile in your kitchen or bathroom.
9. Gray & Black Basketweave Tile
Embrace the look of a minimalist bathroom with a classic basket weave tile in boldly contrasting colors. Pair with white and black accents for the ultimate modern look. Made of Carrara marble, it combines the elegance of marble mosaics with the contemporary style of a minimalist design.
10. Minimalist White Basketweave Tile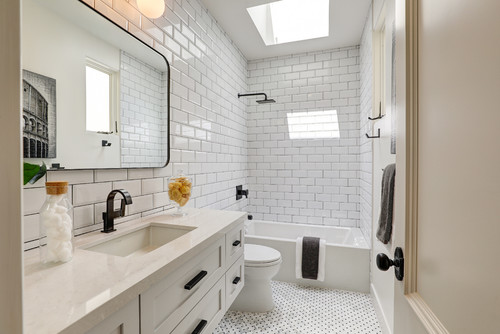 Photo by HK Designs – Browse bathroom photos
Pairing a white basketweave tile with a white bathroom color scheme instantly transforms bathrooms into modern and contemporary spaces. If you're looking for a way to make your bathroom feel brighter and more spacious, then go for a white marble mosaic.
11. Bold Black-Detailed Basketweave Tile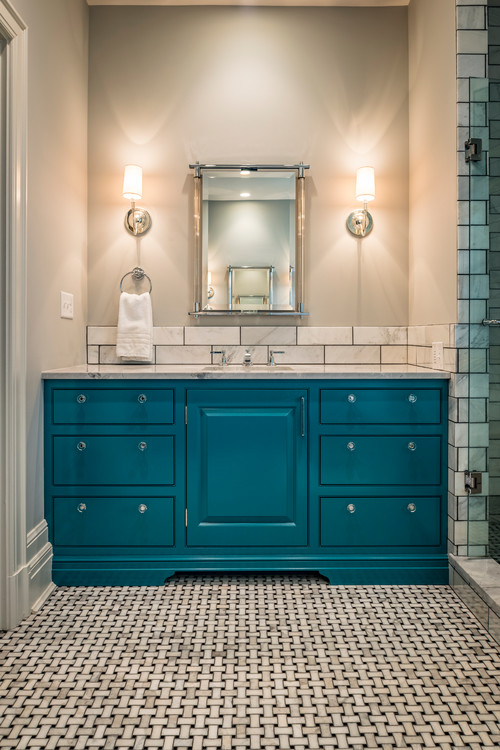 Photo by Bronzie Design + Build – Search bathroom pictures
This contrasting basket weave tile has bold black accents that accentuate the unique and stylish design of basket weave pattern tile. Its glamorous flair recalls the vintage look of art deco bathrooms.
12. Basket Wave Tile Accent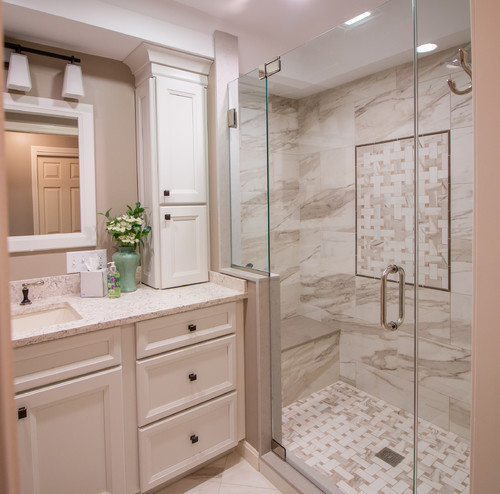 Photo by Cyr Kitchen and Bath – Browse bathroom ideas
One of the ways to add a stylish design element to your bathroom is to go with a unique mosaic tile accent. In the picture above, a basket weave tile design is used to highlight a shower nook, which pairs well with the basket weave bathroom floor tile.
13. Light & Airy Marble Basketweave Tile
We love this crystal gray basket weave tile marble for its luminous, airy look. Marble mosaic tiles have a naturally luminescent quality that diffuses light throughout spaces. Note how this basket weave backsplash tile is a perfect match for white marble countertops and gray cabinets.
14. Honey Beige Basketweave Tile
Last on our list is another one of our warm-toned basket weave tiles. Ideal for nature-inspired interiors, it pairs well with wooden accents and simple design elements. In the image above, the brown marble basket weave tile is paired with a similarly matching marble tile.
Shop Basketweave Tiles Online
Stone Tile Depot offers a range of high-quality, stylish, and affordable tiles that will keep you within budget. Browse our budget-friendly basketweave tiles online today. For more tile options, check out our marble mosaic tiles.
For more mosaic tile design ideas, check out our blog post on Best Mosaic Tiles for 2023.