Create a Glamorous New Italian Bathroom for 2023
In this article, we'll learn how to create a glamorous new Italian bathroom for 2023 with Stone Tile Depot's amazing tile deals.
Deciding on a style for the home can be difficult at times, especially when there are so many choices available. However, the Italian influence has been a popular choice among many, and it is not difficult to understand why.
Anyone who has visited Italy will know that the country is rife with picturesque views that celebrate classic and timeless styles with many modern overtures.
Italy has long been a popular tourist destination for several reasons. Some may enjoy the rich cuisine and culture, whereas others are more drawn to history, fashion, and art. Not only does Italy have a diversity of coastlines and beautiful beaches, but also houses some priceless ancient monuments.
Add to this that there are more World Heritage Sites in Italy than any other country in the world. It soon becomes apparent why so many people want to introduce Italy in the home.
Examples of Italian Influenced Bathrooms
When you first think of an Italian bathroom, do not assume that there are limitations when trying to create something unique. Because this is not the case. Our team curated the best 10 best bathroom tile trends for 2023 including some Italian tiles as well.
There are many avenues that you can explore when searching for the perfect Italian bathroom. Some examples of the aesthetics that can be achieved using the Italian influence include the Westminster Master Bedroom, which makes clever use of whites and grays to achieve a fresh and vibrant style.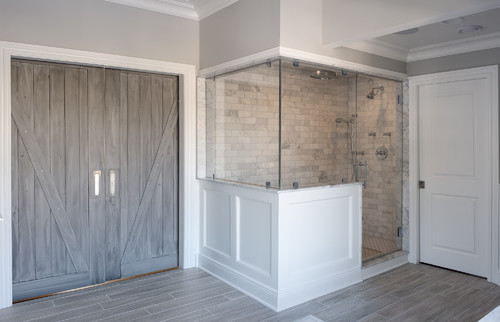 If you are a fan of the white Italian marble effect, then there are plenty of styles you can opt for. The Marble Master Bathroom uses bright white with darker tones and accents to create a bathroom that is unique despite the many influences used to create the space.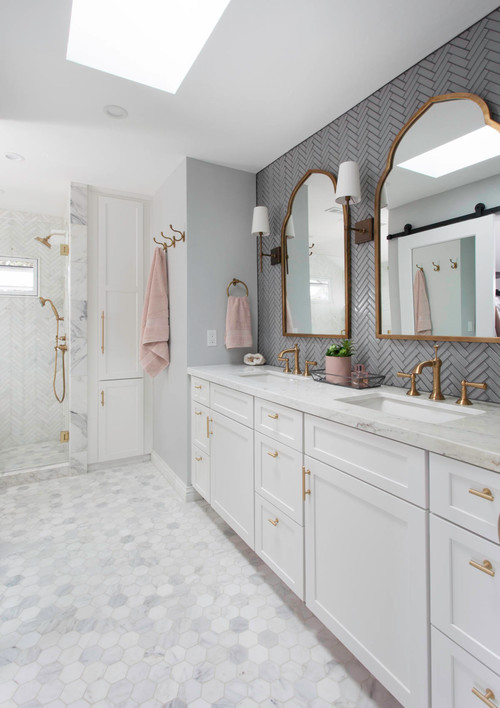 If you are searching for a luxurious and premium take on the Italian aesthetic, then why not use the Italian Marble Bathroom design for some inspiration? This makes use of black and white while mixing it up with the inclusion of mirrors and Italian-style marble hexagon shower floor tiles.
The Tuscan Powder décor uses tones familiar with the fall while making use of elements that are both modern and antique in their appearance. These two styles alone show precisely how much choice is available when achieving a stylish Italian-influenced bathroom. Shop our natural terracotta tiles to have a similar look in your bathroom.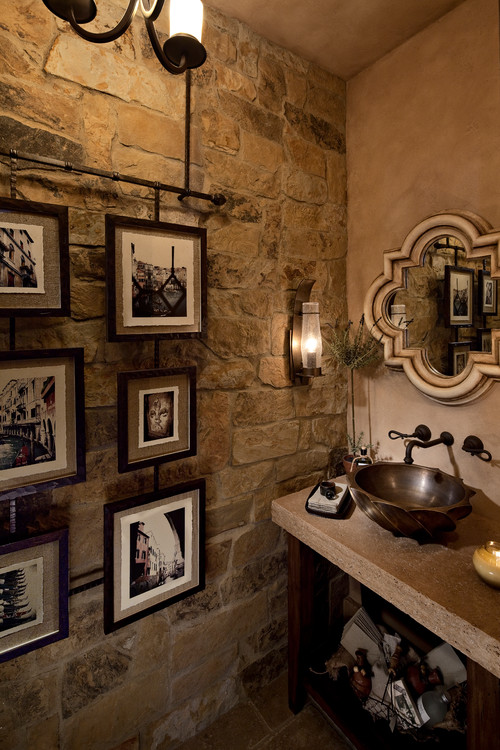 Where to Start When Working with Italian Influence
Despite the amount of choice available when creating an Italian bathroom, it is important to source the right tiles. Otherwise, there could be limitations as to what type of aesthetic can be instilled into the home.
Using the wrong tiles could also mean the upkeep of the décor is problematic. So it is vital to find tiles that offer value for money as opposed to searching for the cheapest tiles.
Cheaper prices can be enticing at first. But many of these tiles will not last in the long term. This means you'll have to spend more money on repairs and replacements.
Stone Tile Depot understands the importance of finding the right materials when creating the perfect bathroom. This is why it strives to ensure that there is always a choice available regarding tiles, regardless of the style you are aiming for.
Italian Carrara Select Polished Marble Tiles
As the name suggests, Italian Carrara Select Polished Marble tiles are the perfect embodiment of Italy. A timeless elegance with a classic gray vein design that looks fantastic on any bathroom wall.
Bella White Polished Marble Tiles
The Bella White Polished Marble Tiles are perfect for those wanting to achieve an Italian theme within the bathroom that is also easy to maintain. Stylish whites are mixed with gray veins to create a space that celebrates all that is alluring about Italy.
Carrara T Polished Marble Tiles
If you want some sheen in your Italian-influenced bathroom, then look no further than the Carrara T Polished Marble Tiles. These bright white tiles have subtle smoky overtones that will make any bathroom the perfect respite after a tiresome day.
The tiles listed are merely an overview of the materials that you can use to create the perfect bathroom that promotes its Italian influence with pride.
If you are keen to start on your project and want to find out more about the various tiles Stone Tile Depot has in stock, then why not get in touch to discuss your requirements in more detail?