How to Choose the Best Pool Tiles for Your Project
If you want to know how to choose the right pool tile for your pool project, you have come to the right place. Swimming pool tile for both inside and outside the pool is a very important decision in terms of function, design, and budget. Below you will find some of today's best modern pool tile ideas and how to implement them in your design project. Whether you desire a classic pool tile design or a more modern waterline pool tile, our guide will help you with your selection.
What Are Pool Tiles?
Pool tiles are beautiful tiles that are placed inside swimming pools. These tiles give pool areas a unique aesthetic and set the tone for the surrounding landscape. These tiles are manufactured for the specific purpose of sustained use in aquatic environments. Pool tiles have to be specially formulated to withstand contact with the chemicals used in pool water. They must also be made of materials that are safe for human and animal contact to be pool worthy. 
Pool tiles have to have extremely low moisture absorption rates to prevent them from wearing down and falling apart. They must also be coated with special glaze formulas to prevent cracks and breaks. Pool tile is a step apart from the tile that is used in interior spaces and, when correctly chosen, can last and look amazing for years.
What Are the Different Types of Pool Tiles?
Here are the most popular materials for pool tile. Each material has a unique set of characteristics that make them optimal choices among pool owners. Read on to learn which materials of pool tile will suit your needs best.
Ceramic Pool Tile
Ceramic pool tile is a classic, time-tested option for swimming pools. It has been used both inside and outside pools to provide high-level moisture and chemical resistance. With proper care, ceramic pool tile is known to last for decades –– making it great for pools with heavy use. Ceramic pool tile is also the most used along waterlines. 
Compared to natural stones, ceramic tiles are affordable, and they have excellent bonding along the shell of the pool. Ceramic tile is clay-based, so it must be sealed to prevent the water from seeping into the tile and causing deterioration. Sealed 6×6 ceramic pool tile can survive years of use and maintain its integrity for the entire duration.
Porcelain Pool Tile
Porcelain pool tile is another clay-based heavy hitter in the realm of pool tiles. Similar to ceramic, porcelain tile is great at withstanding the chemicals and moisture of swimming pools for years. As it's a bit denser than ceramic tile, it's considered more durable. Porcelain tile is very versatile as well. Porcelain pool tile comes in so many colors and patterns that you can even use it to mimic more expensive glass and stone options. 
Glass Pool Tile
Glass pool tile is very highly coveted due to its unique structure and finish. It's the ideal choice if you want to have tile that is very easy to keep clean. If you want to prevent the development of mold at all costs, then choosing glass pool tile is the way to go. Glass pool tile will not absorb pool water or pool chemicals, and it will not become stained and discolored over time. All you will have to do to maintain your glass pool tile is regularly wipe the tile down. 
Glass pool tiles add a touch of modern sophistication to swimming pools. They are used to form unique mosaics that will look visually pleasing and function better than most other materials.
Stone Pool Tile
Aside from ceramic, porcelain, and glass pool tiles, natural stone pool tile is also an option to finish your swimming pool area. Limestone pool tile, travertine pool tile, granite pool tile, and tumbled marble pool tile are each popular stone choices. These natural stones boast an authentic one-of-a-kind look and offer a non-slip surface. If your tastes and budget allow for natural stone installation, any of these materials will be great additions to your outdoor space.
With the proper finish natural stones are hard-wearing due to their dense structure. These natural stone pool tiles are an ideal choice for wet areas that are exposed to sun, moisture, and foot traffic.
What Are the Benefits of Using Pool Tiles?
Durability
One of the best ways to ensure your pool functions optimally is to add tile. Waterline pool tile is especially great for this purpose because they allow you to create the finished product of your choice. You can install blue waterline pool tile to match the color of the water or install white or green waterline pool tile to contrast the more neutral tile surrounding your swimming pool.
Lining your pool with tile is highly recommended because tile makes the pool easy to keep clean. Using tile in the pool also means less maintenance than pools with cement-based surfaces. Glass and ceramic pool tiles are some of the most classic choices that have been around for centuries.
Aesthetics
Aesthetics are another major benefit of using pool tile. The appearance of a professionally tiled swimming pool far surpasses the look of concrete and cement finishes. Glass pool tile is especially eye-catching and provides an enhanced view of the inside of the swimming area. We also updated our best swimming pool tile ideas 2023 if you want to check it out!
How To Choose the Right Pool Tile for Your Project
Rustic Pool Landscape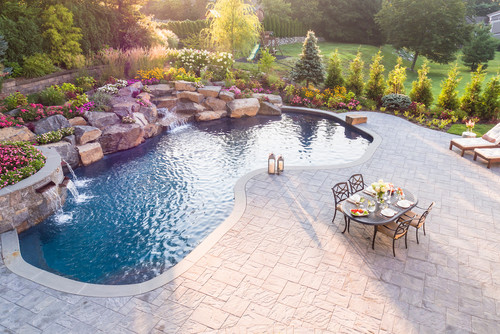 Take a look at this stunning rustic pool landscape design: it features a freeform in-ground pool and lush foliage. The designer of this project did a fantastic job of blending the aquatic space with nature.
A Pool with Luxury Spa
This pool spa hybrid design is the perfect mix of fun in the sun and relaxation, rolled into one! A pool with a slide would be a hit for the kiddos and even be a fun experience for adults. The spa add-on would allow for soothing nights under the stars after a long day.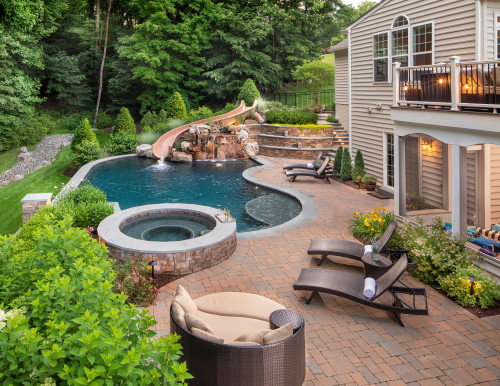 An All Beige Porcelain Pool
This fabulous all-beige outdoor design features nothing but beige-colored porcelain pavers. Pavers are great for adding visual depth in pool areas. If you want your pool tile design to deliver the wow factor, pavers are an excellent option. As an addition, you can use some travertine tiles for your beige atmosphere. However, using tile travertine is a subject you need to be careful, please take a review during installation.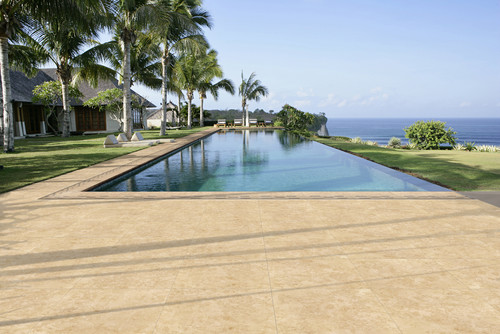 Modern Infinity Edge Pool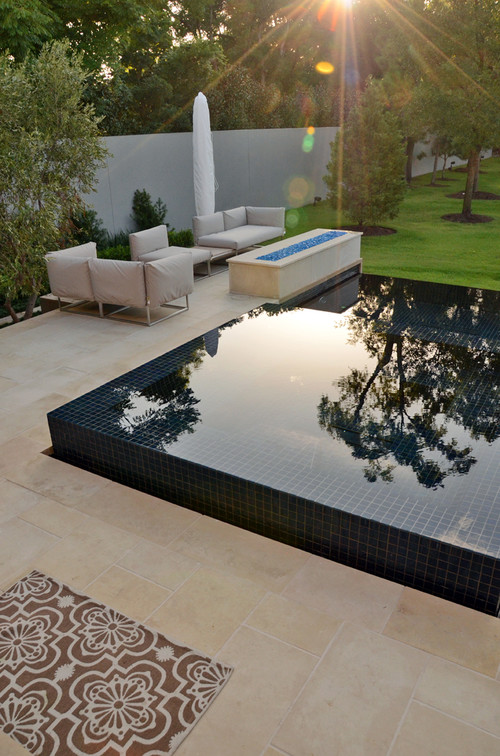 Can we bask in the wonder of this pool? Absolutely. This gorgeous infinity pool design is nothing short of a landscaping marvel. With its gleaming black pool tile and sharp edges, it immediately catches the eye. This pool is an edgy way to add bold color to an outdoor design. You may want to check out black pool tile with hexagon shape also.
A Mediterranean-Inspired Pool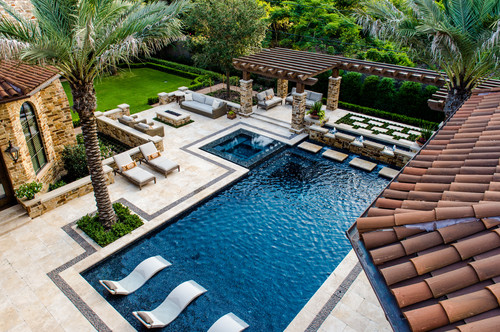 This pool is reminiscent of a getaway in paradise. Laying by this pool would be nothing short of a luxury experience. This Mediterranean pool design may be what you need to guide your pool renovation project.
A Coastal Pool House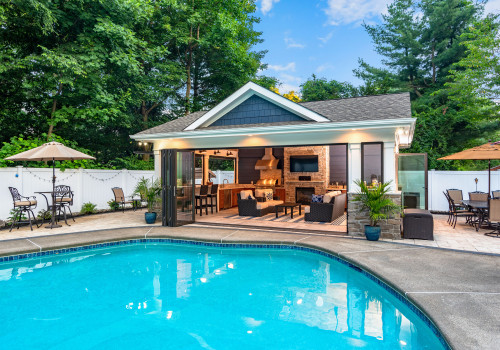 This coastal pool house design takes the breath away. From the crisp blue water to the air layout of the open-front pool house, this look is captivating. If your backyard has the space, the addition of a pool house could be a worthy idea. 
True Blue Pool Design
This pool features Blue Glass Pool Tiles for the ultimate tropical effect. Gazing into these blue waters will take you away. Glass mosaic pool tile captures light elegantly and illuminates for a dazzling result. 
Tourmaline Pool Tile 
This Anti-Slip Glass Mosaic Tile is so vivid. Glass pool tile has an exceptional reputation for reflecting the light that gives swimming pools their alluring glimmer. Bluewater is always a classic motif and blue glass pool tile is the perfect complement. 
Multicolored Glass Tile
This pool features our Blue Swimming Pool Tile. This combination of blues and neutrals creates a simple yet enticing warm-water aesthetic. You can deck your pool out in mixed-color mosaic pool tile and watch the natural light dance off every angle of your swimming pool.
Silver Porcelain Pavers
This pool showcases Gray Porcelain Pavers around the outer pool area. When you develop your pool tile design idea don't overlook the area surrounding the pool. You can make the surrounding tile very simple, or go with an upscale material to enhance the finished result. 
Natural Hued Porcelain Tile
There's something perfectly lovely about this stone-look Paver Patio. It is a great way to maintain a natural vibe outdoors. Porcelain pool tile is highly versatile and comes in a vast selection of shades, prints, and finishes. If you decide on porcelain pool tile your outdoor space has no limits. Terracotta pool tile and terracotta pool coping also offer an ultra-natural option for homeowners who want to add a rustic element to the swimming pool. 
Picking the Perfect Tile for Your Pool
This breakdown of the most popular choices for pool tile is only a reference – we have many other fabulous styles of pool tile available. Now that you have explored the wonderful world of pool tile, we hope that you can make the best selection for your landscape.