Terrazzo Is Back! Best 20 Terrazzo Tile Ideas
We're happy to report that terrazzo tiles are one of the most popular rising trends of the last few years. Contemporary and versatile, terrazzo tiles are a great option for anyone in search of a durable and long-lasting tile that also looks beautiful.
What Is Terrazzo Tile?
Terrazzo tile is a type of building material that has been traced back thousands of years to ancient Egypt. A type of composite material, it is created using chips of marble, granite, glass, or quartz that is set with either cement or epoxy-resin. The result is an incredibly durable and long-lasting tile well-suited for floors and walls of bathrooms, kitchens, and more.
20 Terrazzo Tile Ideas for Kitchens, Bathrooms, and More
Here are some of our top terrazzo tile design ideas for a variety of spaces:
1. Multicolored Terrazzo Tile Bathroom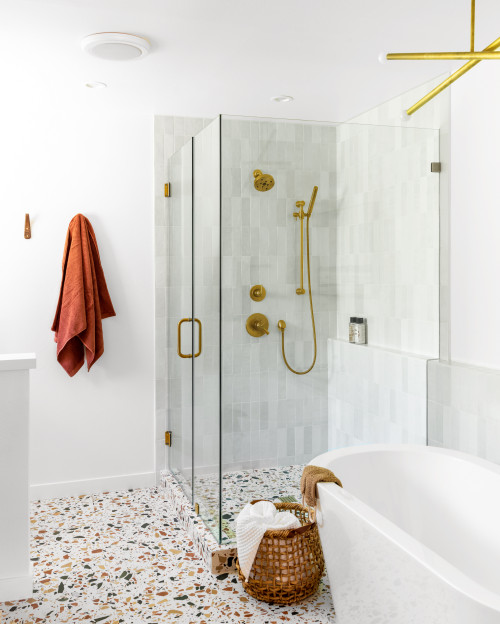 Photo by Well Done Building & Design – Discover bathroom design ideas
First on our list is this stunning multicolored terrazzo tile flooring, which combines autumnal shades of yellow, orange, and green against a clean white background. The result is a bathroom with a unique and charming character.
2. Minimalist Gray Terrazzo Floor Tile
Perhaps you're seeking something more understated. If so, consider going for a minimalist gray terrazzo tile flooring, like this kitchen shown above. Terrazzo tiles come in a variety of gray hues with different flecks of stone.
3. Beige Terrazzo Tile Flooring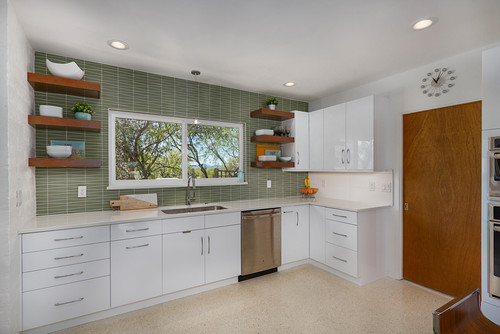 Photo by C K Cabinetry and Design, LLC – Discover kitchen design inspiration
The subtle warmth of this beige terrazzo tile floor matches the organic elements of this mid-century kitchen. Note how the terrazzo tile kitchen floor works well with the sage green backsplash and rich oak door.
4. Large-Format Terrazzo Tile Bathroom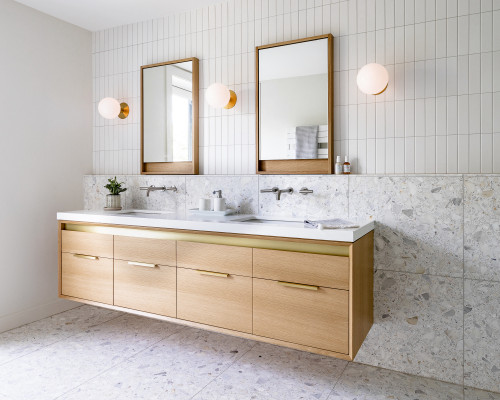 Photo by Swiatocha Architecture + Design – More bathroom photos
These light-toned gray terrazzo tiles have a large format that makes spaces feel larger. The white tile backsplash adds to the cleanly, understated look of this modern terrazzo bathroom design.
5. White Terrazzo Tile Flooring
White terrazzo tile is a classic for good reason. If you're looking for an updated interpretation of a classic interior design element.
6. Terrazzo Tile Bathroom Wall
Terrazzo tiles are typically utilized for flooring options. Nevertheless, they work well for wall installations, especially in bathroom and shower applications due to their moisture resistance. Matching floor and walls create a streamlined, sophisticated bathroom design look.
7. Monochromatic White Terrazzo Tile Bathroom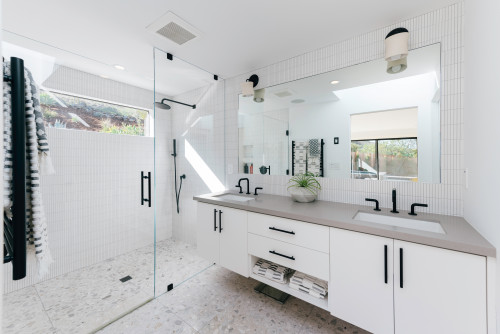 Photo by Moss Yaw Design studio – More bathroom photos
Although terrazzo tile is typically associated with more classic designs, this white terrazzo tile proves that terrazzo tiles work just as well in contemporary settings. The black accents of this bathroom contrast nicely with the monochromatic white cabinets and terrazzo flooring tile.
8. Millennial Pink Terrazzo Tile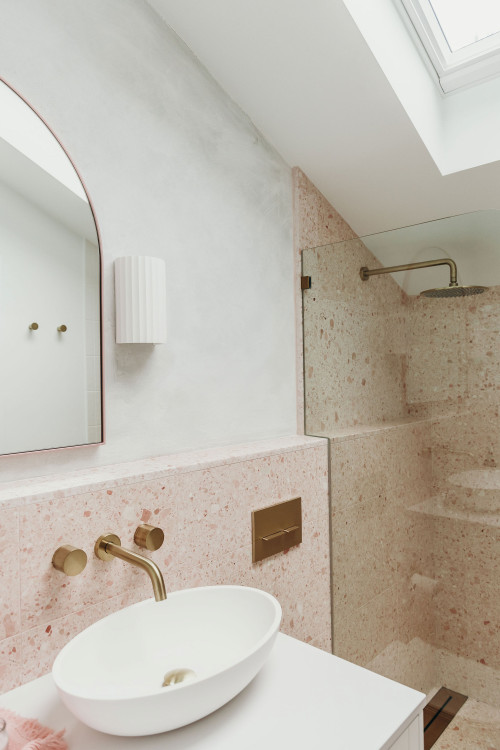 Photo by Your Home Designs – More bathroom ideas
Millennial pink embodies chic. Balancing warm and cool tones, it suits a wide variety of interior palettes. We love how the pink terrazzo tile pictured above highlights the rich rose gold tones of the sink.
9. Gray Terrazzo Tile Kitchen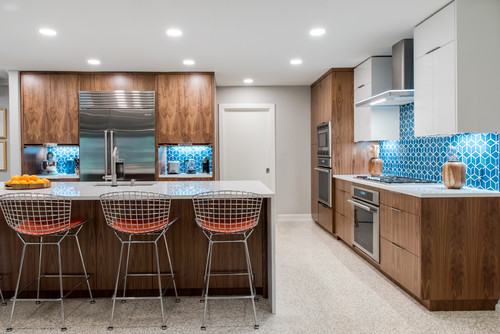 Photo by The Inside Story Design, LLC – Discover kitchen design inspiration
This gray terrazzo tile kitchen design embraces the look of a bold design with its bright blue backsplash and rich wood cabinets. The gray terrazzo tile floor balances out the space and creates a harmonious look.
10. Black Terrazzo Tile Kitchen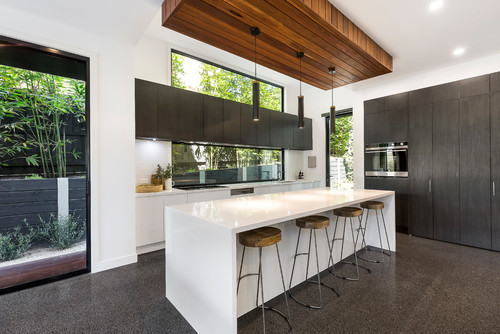 Photo by vistalab – Search kitchen design ideas
Black terrazzo tile creates the illusion of a natural stone floor without any of the high maintaince. Take this black terrazzo kitchen shown above, for example. The black terrazzo tile creates texture and dimension in the space.
11. Transitional Terrazzo Floor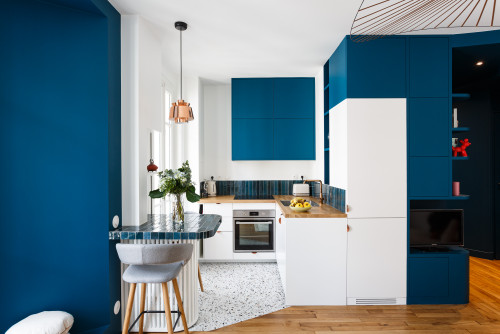 Photo by Emilie Melin architecte DPLG – More kitchen ideas
This transitional terrazzo tile kitchen flooring is utterly unique, as it forms a diagonal division between hardwood floors and white terrazzo tile flooring. The look is completely contemporary and absolutely stylish.
12. Terrazzo Tile Shower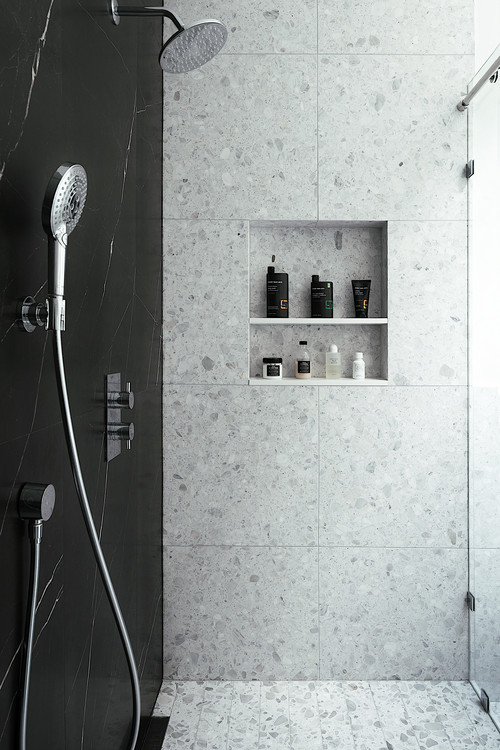 Photo by Kimball Modern Design + Interiors – Look for bathroom pictures
Terrazzo tile makes for an ideal material for shower installations due to its durability, longevity, and most importantly, moisture resistance. The shower shown above combines natural stone black marble with gray large terrazzo tile, showing the range of modern tile artisanship.
13. Terrazzo Tile Backsplash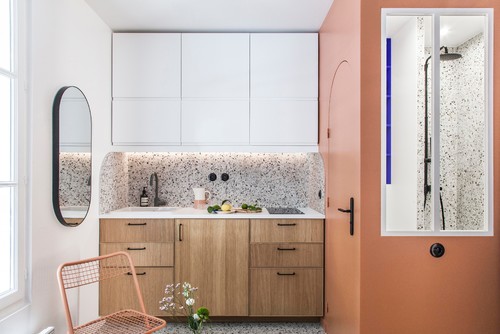 Photo by AGENCE MARN DÉCO – Browse kitchen ideas
Many people might not think to choose terrazzo tile as a kitchen backsplash, but it adds a charming, modern flair that encapsulates maximalism. We love the look of a terrazzo flooring tile paired with a terrazzo backsplash tile for a uniform, cohesive design.
14. Sleek Dark Gray Terrazzo Tile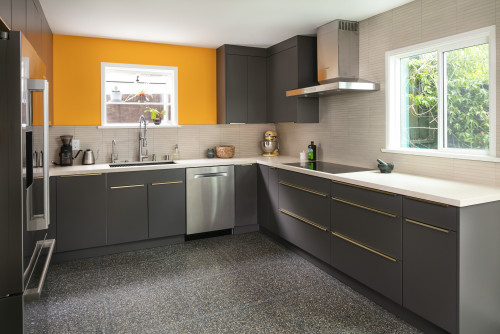 Photo by Metropolis Drafting and Construction Inc – Look for kitchen pictures
This sleek, sophisticated terrazzo tile creates a streamlined look that matches the minimalist cabinets. The orange accent wall in this kitchen forms a modern contrasting design to the dark gray terrazzo floor tiles and cabinets.
15. Turqouise and Gray Terrazzo Bathroom Tile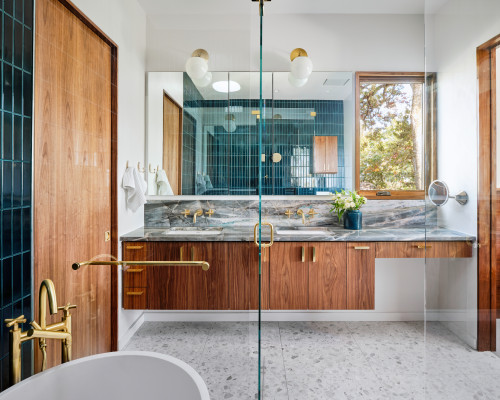 Photo by Pollen Architecture & Design – Look for bathroom pictures
If you have a favored bold accent tile that you're dreaming of using for your bathroom design, then its best to offset it with a neutral floor tile. Take this turquoise backsplash and gray terrazzo tile pairing for example. The colors work cohesively and balance each other out.
16. Mid-Century Terrazzo Kitchen Design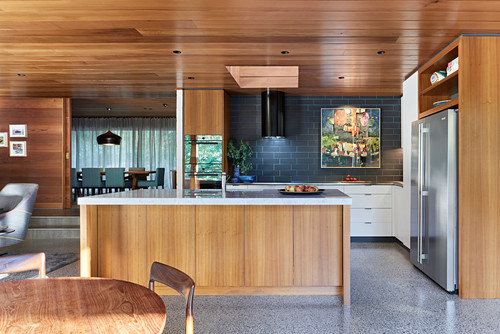 Photo by Adie Courtney Architect – Discover kitchen design inspiration
There's something about terrazzo tile that makes it suit a variety of design eras and trends. While terrazzo tile works well with both traditional and modern designs, it can meet you halfway in the middle as well. This mid-century kitchen blends natural and contemporary elements for a sleek design.
17. Blue Terrazzo Tile Bathroom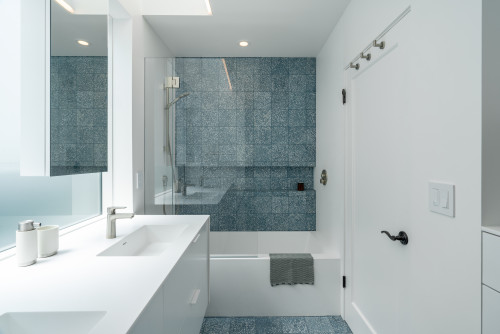 Photo by building Lab, inc. – More bathroom ideas
While terrazzo tile typically comes in neutral shades of white, beige, gray, and black, more vibrant colors exist as well. This blue terrazzo tile is perfect for anyone seeking a colorful bathroom design or for a child's bathroom idea.
18. White Terrazzo Tile Wall and Floor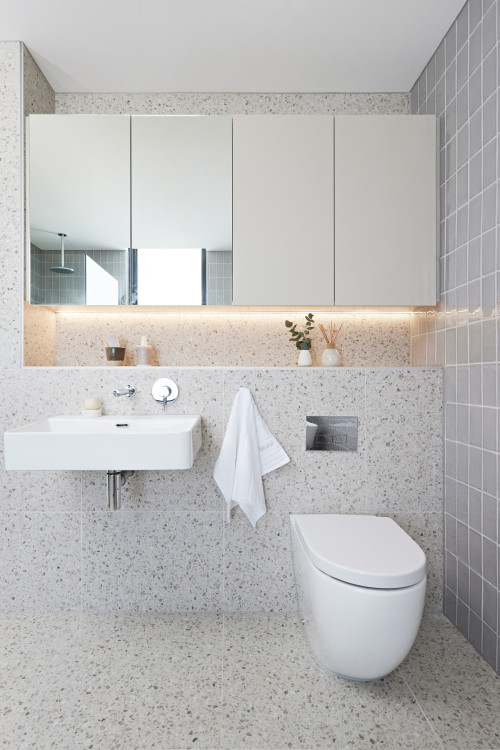 Photo by Some Studio – More bathroom ideas
Creating a floor to ceiling bathroom tile look always makes bathrooms feel more spacious and open. This white terrazzo tile works well as a small bathroom tile idea.
19. Terrazzo Tile Entryway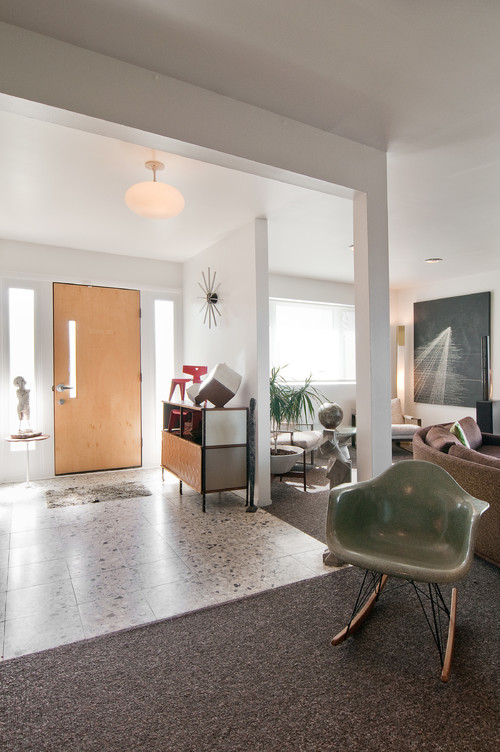 Photo by Lucy Call – More entryway ideas
While terrazzo tile is typically used for kitchens and bathrooms, it is a great option for hallways, entryways, and living rooms too. Durable and accessible, it is a highly versatile material.
20. Green Terrazzo Tile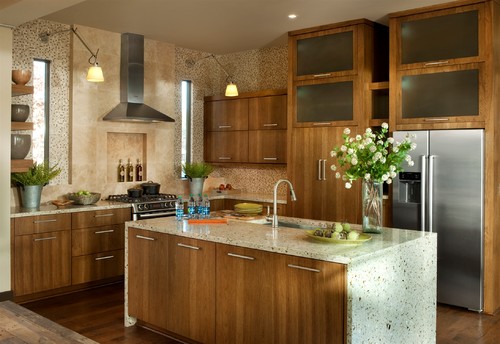 Photo by J Steven Kemp Architect – Search kitchen pictures
Last but not least is green terrazzo tile, which is a unique and stylish option for anyone who loves organic modern or natural-style interiors. This green terrazzo is used to make an eye-catching countertop, but it could look just as great as a terrazzo tile floor or terrazzo tile backsplash option.
Shop Terrazzo Tiles Online
Stone Tile Depot offers a range of stylish and contemporary terrazzo tiles for your home at budget-friendly, affordable price points. Browse our entire collection of terrazzo tiles online today.