The Best 4 Modern Bathroom Vanities
Modern Bathroom Vanities Ideas
Modern bathroom vanities are stylish, beautiful, and multipurpose. There are thousands of unique vanity styles to choose from and that can make narrowing down which styles are the best. Ultimately the best modern bathroom vanity for your space will depend on your taste and budget but in this article, we also want to highlight the importance of style. The most common styles of modern bathroom vanities include the modern mid-century vanity, modern farmhouse vanity, modern floating vanity, and modern open-concept vanity.
Within these popular styles, you will be blown away by the large number of sizes, and as an example, wood finished vanities are available. If you are unsure about which of these vanities is best, read on to learn more about the stand-out features of each fantastic style. You may have a hard time narrowing down your options once you see the number of benefits each type of vanity has to offer.
In our blog, we have lots of bathroom vanity ideas for your chic bathroom!
1. Modern Mid Century Bathroom Vanities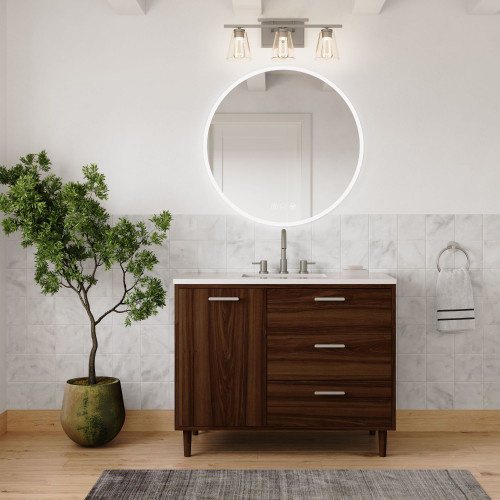 Modern mid-century style bathroom vanities offer a nod to the past and maintain a stylish vibe that's attractive to many of today's homeowners. You can get the best of both worlds when you select a modern mid-century bathroom vanity because they offer unique storage solutions. Modern styles also deliver in terms of looks being neither too vintage nor futuristic in appearance. A mid-century vanity style is likely to appeal to you if you have retro taste and wish to infuse those elements comfortably into your home's design.
Modern mid-century bathroom vanities are the absolute best when creating a look of sophistication. The silhouettes for these vanities showcase the luxuries of new-age design advancements bringing old concepts into the present. A mid-century modular style will create storage while its hidden handles update a classic concept into an elevated motif.
Modern bathroom vanities with mid-century accents are right on trend. You can have a bathroom that has a look that is both polished and retro. Bathroom vanity styles tend to look best when elements feature clean lines and simple, crisp colors. A richly colored mid-century style vanity will add major creative points and keep your space from looking cookie-cutter.
2. Modern Farmhouse Bathroom Vanities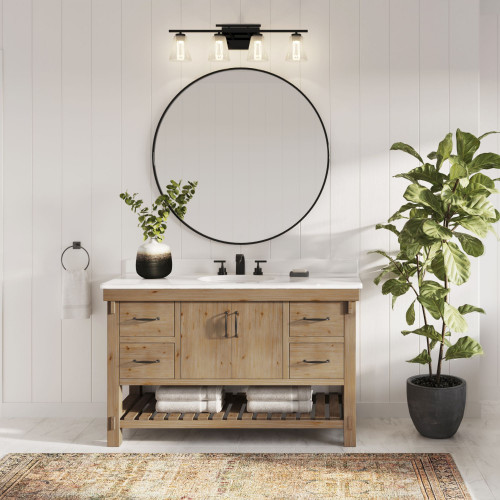 The modern farmhouse bathroom vanity is one of the most popular styles of vanity to spring up in the last couple of years. Also known as farmhouse chic, farmhouse-style vanities are both ultra-trendy and classic. These vanities usually feature a blend of natural colors and come in rustic finishes that will look good with both muted and bold-colored decor. Farmhouse-style vanities also provide an aesthetic quality to modern bathrooms that is synonymous with country living. The natural beauty of a modern farmhouse bathroom vanity will complement your white bright white walls, beamed ceilings, and claw foot tub seamlessly.
3. Modern Open-Concept Bathroom Vanities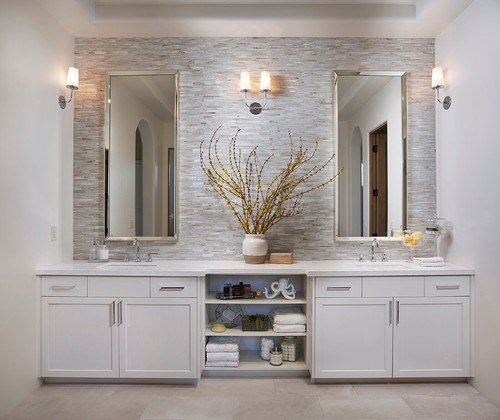 Another modern bathroom vanity idea is the modern open-concept vanity. It is the perfect solution for storing towels, linens, and extras in a fashion-forward approach that puts everything on display. Open-concept vanities aren't anything new but the styles of today are more sleek and polished looking than your run-of-the-mill shelving unit. This style of bathroom vanity will work for you if you like the idea of having your decor elements visible and easy to access.
Modern style open concept vanities can make your room appear less cluttered. You can ditch the knobs, and bulky doors and instead showcase items to add charm to the room.
4. Modern Floating Bathroom Vanities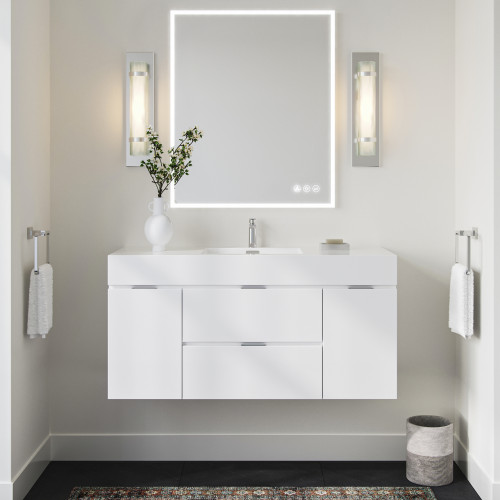 The latest style of a floating vanity is a novel idea. It is great for a minimalist look in bathrooms which is trendy at the moment. Eliminating storage may seem counterintuitive, but if you creating a modern motif where you are solely storing your essentials a floating vanity is ideal.
The bulk of the perks of a floating vanity is aesthetic, but you can use this type of vanity to keep your bathroom neatly organized. Select a cabinet or drawer style that will allow you to organize your basics while cutting down on visual clutter. A modern bathroom vanity with visual appeal and minimal bulk makes your bathroom feel bigger so you can have ease and optics. The floating vanity can also be freestanding. This style sets itself apart from traditional wall-hung styles by standing on its own and provides a great amount of storage space which is invaluable in bathroom spaces.
Another unique feature of floating vanities is the range of sizes and colors which range from simple to ultra-eclectic. You can use this vanity style however you desire in your home. A floating vanity creates a timeless fixture that works in both traditional and contemporary spaces.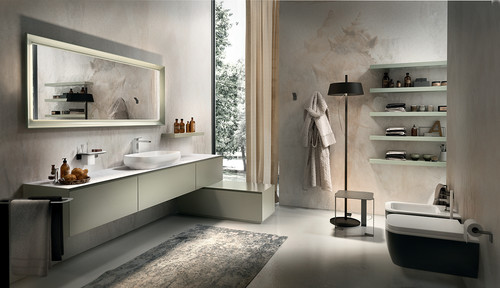 If you are interested in bathroom vanities, you will find multiple types of bathroom vanity ideas for 2023!
Luxury Modern Bathroom Vanities
You can purchase a luxury modern bathroom vanity from multiple places. However, if you are looking for a stylish high-quality modern bathroom vanity you should consider shopping online. At Stone Tile Depot we offer luxury brand bathroom vanities that feature counters and sinks made of luxurious natural stone.
FAQ
Q: What is the most popular color for modern bathroom vanity?
A: The most popular colors for modern bathroom vanities are classic shades. Think of shades of white, gray, black, brown, and similar earthy tones. These colors may seem a bit bland for you, but many homeowners appreciate simple shades that can be easily decorated. If you enjoy vivid colors consider the many beautiful styles of pre-painted modern bathroom vanities for sale to save yourself time. You can also DIY your very own modern bathroom vanity for cheap and save lots of money.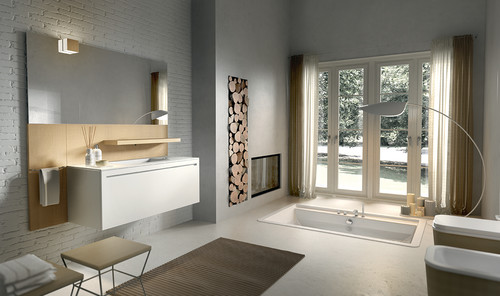 Q: What is the most popular modern bathroom vanity size?
A: Newer homes tend to feature modern bathroom vanity styles that are taller and wider than in older homes. If you have an older home with a bathroom that can accommodate a larger vanity, consider upgrading in size during your bathroom remodel. In terms of width, you will see that 24-inch bathroom vanities are a widely offered option. Also in our blog, there are some small bathroom vanity options to consider.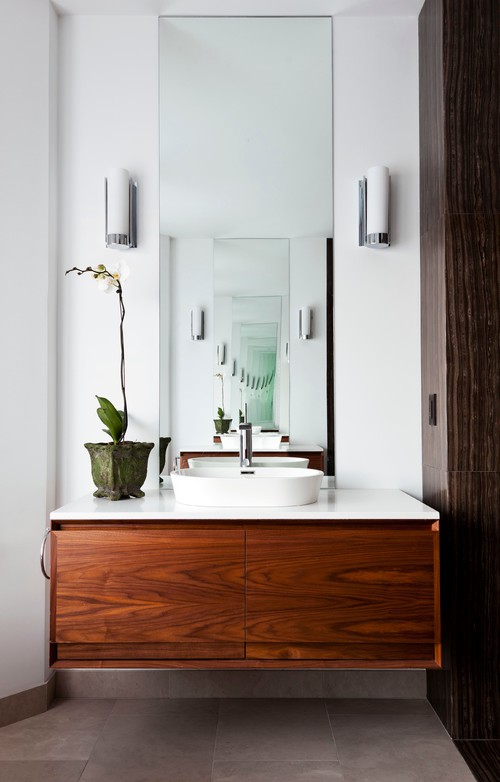 Q: What is the trend height of a modern bathroom vanity now?
A: Bathroom vanities are available in several standard sizes as well as in-between sizes. The typical heights for store-bought vanities measure anywhere from 30 to 36 inches in height. 36 inches tends to be the most popular vanity height for ease and comfortable daily use. At this height, bathroom vanities are user-friendly for most average-height individuals and comfortable for people who are taller than average.
At Stone Tile Depot, we enjoy providing you with more aesthetics for your home!