Top 10 Marble Look White Porcelain Tile Backed by Science
What Is Marble Look Tile?
Marble-look porcelain tile is making waves as an innovative new way to get the marble look for less. Between its durability, versatility, and the variety of available colors, marble-look porcelain tile makes it possible to have a luxury look without breaking the bank. White tiles made of marble are considered the pinnacle of high-end design. However, they have costs associated that make them inaccessible to homeowners with modest budgets. Furthermore, the installation costs can be far too steep for most homeowners to consider investing. Thankfully, we have found a wonderful solution for those who want to create a high-end look using the best white tile ideas using marble-look porcelain tiles.
Yes, believe it or not, porcelain tiles can help you achieve the look of authentic marble without the high price tag. Porcelain also can help you avoid the maintenance that authentic marble requires. If you are unaware of the amazing qualities and the possibilities of marble-look tiles read on to learn all you need to know. We have done a breakdown of how you can use these tiles to transform every area of your home.
Marble-look tile, sometimes called marble effect porcelain, is exactly what they sound like – porcelain tiles that have patterns that mimic real marble. A high-quality printer is used to cover the surface of the tiles with markings that ensure the result is porcelain tile that looks like marble.
A Dazzling Choice For Your Next Project: Marble Look Porcelain Tile
Marble-look porcelain tile comes in different sizes to accommodate a wide range of home projects. Most of the time you will come across sizes that are suitable for projects in the kitchen, bathroom, washroom, shower, etc. There are varieties of porcelain and marble-look ceramic tiles available that give you every desired effect – even marble-look subway tile.
Marble-look porcelain helps homeowners with modest budgets to adorn their homes in a porcelain tile that looks like Carrara marble for a fraction of the cost. These minimal-looking white tiles can create a modern, chic, or classic look according to your aesthetic. Think of how nice a marble-look floor tile and a marble-look tile shower can be in your space and the bonus of saving potentially thousands of dollars to get the result of your dreams.
Can you picture it? Great! Now take a look at the top 10 marble-look porcelain styles that are backed by science. Marble-look porcelain is not only better for the environment but it is better for your wallet. We think you will love these affordable looks with porcelain tile that looks like marble.
Best White Porcelain Tile Ideas
1. Estatuario Polished Marble Look at Porcelain Tile
The green may be the first thing you notice in this contemporary kitchen. However, the element with the most staying power is the stunning Estatuario Marble Look Porcelain slabs along the walls. No matter what other changes the designers choose to make in this space the marble look porcelain will continue to be a feature that the other design elements can be used to accentuate.
2. Bianco S Marble Look Porcelain Tile
Biano S Carrara Marble is a very popular variety of white marble tiles. This marble is used in homes and featured in interior design magazines. It has a universal appeal and is the prototypical vision of authentic white marble that is most associated with the material. It has a nice mixture of small and large veins that give an unexpected and one-of-a-kind result.
3. Carrara Venato Semi-Polished Marble Look Porcelain Tile
Aside from the glowing sheen of this polished tile, you will notice the striking uniformity of its veining. Authentic Venato Marble Tile has a very neat and classy look and this porcelain marble look tile is hard to tell from the real thing.
4. Carrara Blanco Natural Marble Look Porcelain Tile
A marble look in the bathroom tiles is always a wonder idea. Just look at this natural look Carrara Tile is the perfect match for the stand-alone stone sinks and round spa bathtub that carries the crisp white motif of white in the bathroom to a new level.
5. Marfil Real Polished Marble Look Porcelain Tile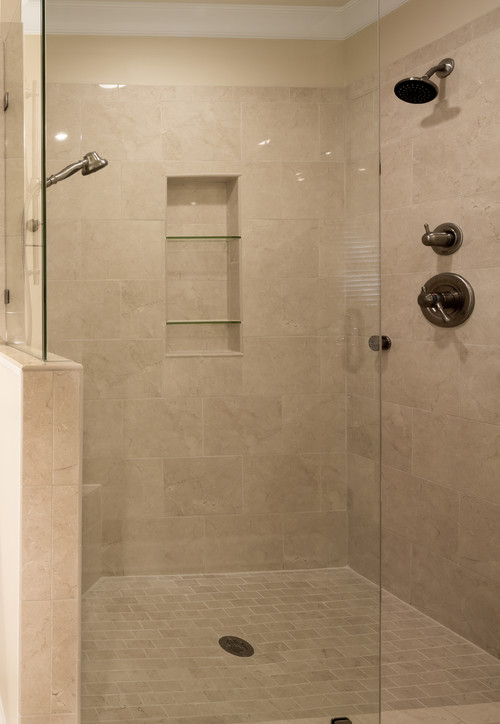 This Marfil Porcelain Marble Look Tile is subtlety veined at first glance. Upon closer inspection, you can see a very warm and muted brown and gray veining that highlights the rich tones of the shower floor tiles and walls. Even if your space is more modest in size you can take a cue and use this trick to make a statement.
6. Bianco Marjinal Polished Marble Look Porcelain Tile
This Bianco Marjinal Tile makes this area sparkle. The high polish on this porcelain-marble tile is a testament to how far porcelain production has come over the last 20 years. This porcelain tile is sleek, chic, and modern – elements we deeply appreciate.
7. Calacatta Renoire Honed Marble Look Porcelain Tile
This cloudy-honed Calacatta Renoire Tile is the perfect blend of white and soft gray. These tiles are large-format which helps create clean, crisp visual lines. This is a style of marble-looking porcelain that would also be nice in a smaller space, just like in cozy living room tiles.
8. Gold Statuary Honed Marble Look Porcelain Tile
You cannot tell us that this gold-hued statuary marble-look porcelain tile doesn't look like the real thing! The warmth of this marble-look tile gives off so much depth and texture it appears 3 dimensional. The mosaic tile style of this backsplash is so breathtaking with the warm granite counters and dark oak cabinetry in this kitchen.
9. Romano White Marble Look Porcelain Tile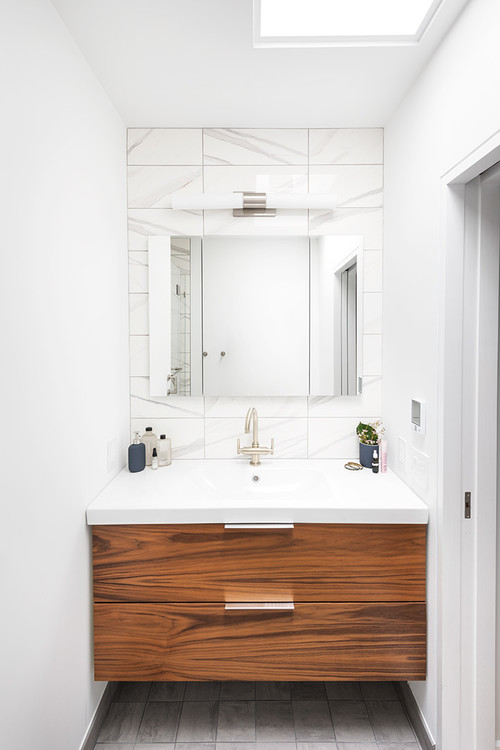 This bathroom has a great pairing of white Romano Porcelain Marble Look Tile and a rich walnut wood grain vanity. The bright elegant looking porcelain creates the perfect contrast to the darker wood. Also, it is balanced out by the matte white sink in this contemporary bathroom. The backsplash tile in white adds natural light so this tight space looks larger.
10. Carrara Zebrino Polished Subway Marble Look Porcelain Tile
White Zebrino Marble Tile has a very natural appeal. The veining is very stark and noticeable which is not lost on many designers who often use this variety of porcelain marble look tile in eclectic spaces. Is it just us, or does the zebrino pattern make you think of zebras in the Serengeti?
Carry out your unique style with 2023's Porcelain Tile Ideas and  Stone Tile Depot's exclusive collections. Shop now and contact us for more!