Top 13 Robust and Gorgeous Outdoor Travertine Tile Ideas for 2024
One of the top choices for outdoor patio and poolside installations, outdoor travertine tiles offer a certain rustic charm and are practical, too. Durable and hardwearing, outdoor travertine tile is an excellent option because it holds up against the elements and fits seamlessly with the surrounding nature.
Available in a range of soothing, natural beige, brown, and silver tones, travertine tiles are highly versatile and adaptable. They also come in a range of finishes that suit various installations. For poolsides and other slippery areas, we recommend going for a tumbled travertine tile due to its rough, anti-slip finish. If you're seeking a sleek, elegant flooring option, then a honed travertine tile is the ideal choice. For an in-between option, our antiqued travertine tile has a weathered, rustic look yet also has a smoother finish.
Let's proceed with our top outdoor travertine tile ideas for 2024:
1. Honed Beige Travertine Patio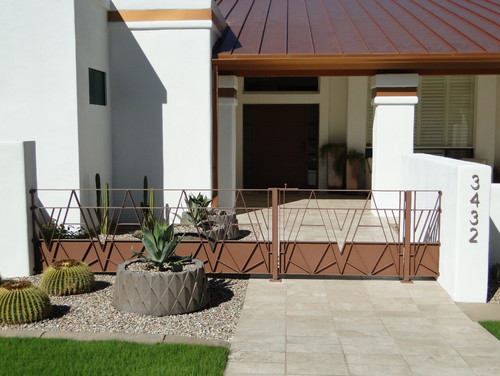 Photo by Hydroscapes LLC – Search patio design ideas
One of the most classic travertine floor tile options is this soothing and understated honed travertine tile. With its beige, sandy hue and smooth surface, it suits a wide range of interiors. It perfectly matches the southwestern-style home shown above.
2. Tumbled Travertine Tile Mosaic
Tumbled travertine tiles recall the beaten paths of medieval Italian towns. A timeless look, they have a classic organic allure that will look incredible no matter the era or season. We love how the Chiaro Tumbled 2×2 Travertine Mosaic offers a rustic look to this poolside.
3. Transitional Travertine Outdoor Tile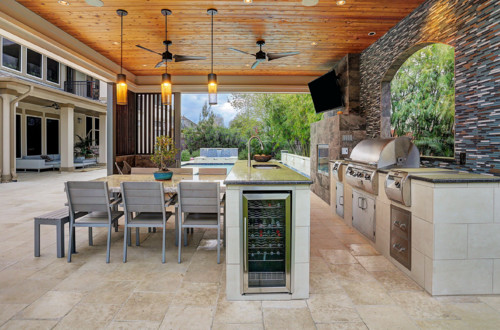 Photo by TCP Custom Outdoor Living – Look for patio pictures
If you're lucky enough to live in a warmer climate, then we suggest embracing the look of a transitional space like this outdoor patio shown above. The honed travertine tile outdoor is a practical and stylish choice for this outdoor kitchen and dining area.
4. Antiqued Travertine Tile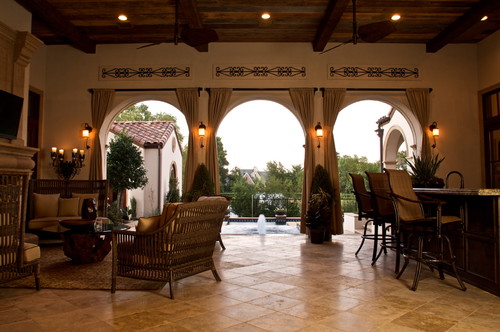 Photo by Heritage Design Studio – More patio photos
This open space is another transitional option that does not divide the outdoors from the indoors. We love the look of an antiqued travertine tile since it offers an element of traditional charm to spaces. If you prefer a more modern look, the natural design of this tile pairs well with organic modern designs.
5. White Travertine Tile Poolside
Although travertine tile is typically associated with brownish-beige hues, white travertine tile offers an alternative look. It brightens up outdoor spaces and nicely contrasts the vibrant blue of poolsides or oceanfronts. Consider this Chiaro Tumbled Travertine Pavers French Pattern with its mismatched, rustic finish or go for one of our best stone look tile ideas.
6. Vein-Cut Travertine Tile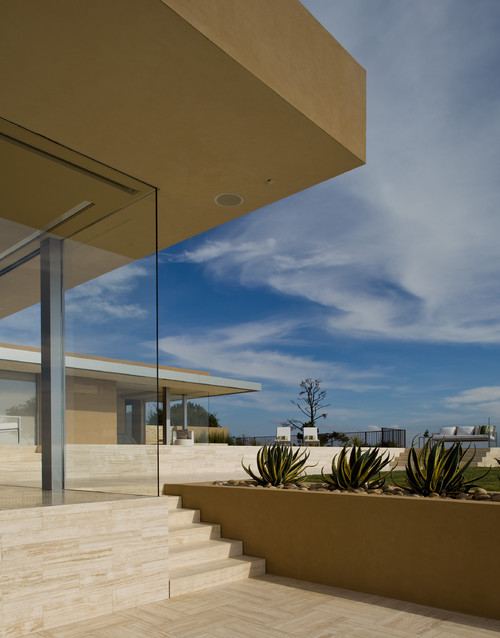 Photo by Swatt | Miers Architects – Browse patio ideas
Vein-cut travertine floor tile showcases the natural beauty of travertine with a detailed view of its veining. Take this California modern style home for example. The travertine floor tiles are laid in alternating pattern to create a subtle criss-cross design in the flooring. The stairs are similarly laid with travertine tile for a harmonious, uniform look.
7. Rustic Travertine Tile Flooring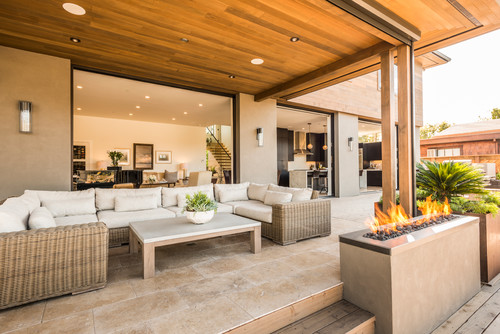 Photo by Dorman Associates, Inc. – Look for patio design inspiration
One of the best qualities of travertine tile is its natural rustic look. Perfect for country-chic homes, southwestern style exteriors, or beachside get-aways, travertine tiles are ideal for anyone who loves the look of nature. We love how this travertine tile flooring suits the cream-colored sofa and wood awning in the image above.
8. Square Ivory Tumbled Travertine Tile
For a more streamlined look, consider a square travertine tile floor layout for your patio or poolside. The tumbled finish of this travertine tile offers the perfect anti-slip surface for wet areas. Note how this travertine tile patio pairs beautifully with the grass pictured above, creating a harmonious transition. For a more delicate look, consider going for a 4×4 travertine tile.
9. Dark Brown Travertine Tile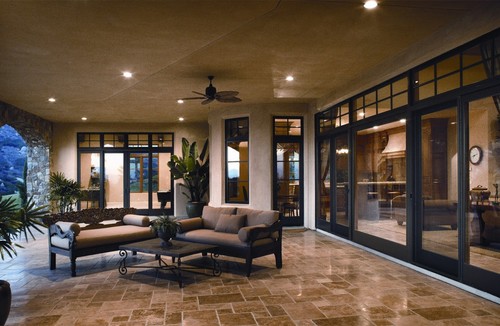 Photo by Window Visions – More patio photos
For a more earthier look, consider going with a dark brown travertine tile floor. This darker shade suits iron moldings and more industrial-style exteriors. This tile adds a touch of sophistication to classic patio styles.
10. Seamless Travertine Tile Patio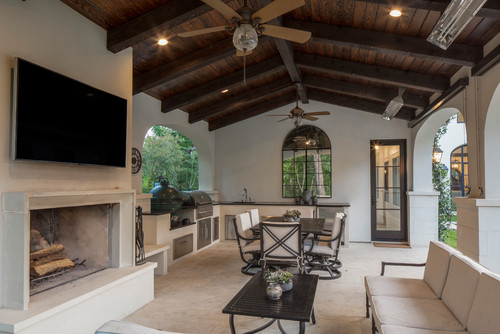 Photo by Michelle Tumlin Design – Look for patio pictures
For a more uniform, sleek look, travertine tile fitted together create the illusion of a seamless floor that suits interior and exterior spaces. This transitional exterior space goes effortlessly from inside to outside with a seamless travertine tile flooring look. Moreover, the barn-style space works well with the travertine.
11. Contemporary White Travertine Tile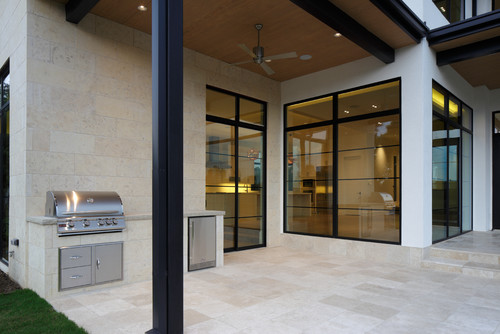 Photo by DW Distinctive Properties – Browse patio ideas
Although travertine tile is typically associated with traditional designs, they work just as well with contemporary, modern, and minimalist as well. Take this understated white travertine tile for example. Its sleek lines parallel the black industrial window panes nicely.
12. Travertine Tile Patio Island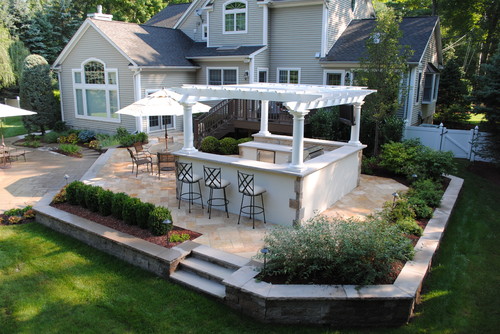 Photo by Jacobsen Landscape Design & Construction – More patio ideas
Patio islands are a fun and creative way to create a distinct design in your garden. Make it standout with an outdoor travertine tile. It works well a variety of tones in the garden, adding a hint of natural warmth that balances the cool-toned hues of the house and outdoor bar.
13. Travertine Tile Pathway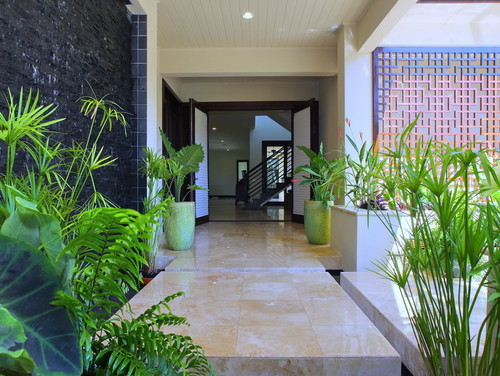 Photo by Ellis Consulting Group Inc. – More patio photos
We round off our list with a contemporary exterior design style that would be right at home in LA or Miami. This travertine tile pathway is an example of utilizing traditional materials like travertine in a modern, polished design that transitions effortlessly from exterior to interior. The travertine tile shown above has a polished finish, which adds an element of shine.
Shop Travertine Tiles Online
Stone Tile Depot offers a wide variety of high-quality natural stone and manufactured tiles at affordable prices. Browse our selection of outdoor travertine tiles online today.