Best Timeless Picket Tile Backsplash Ideas For Your Kitchen
If you love the look of a rustic country chic kitchen, then picket tile backsplashes are certainly for you. The perfect blend between stylish and charming, these kitchen tiles are one of our most popular tile designs. A great way of adding a touch of warmth and a welcoming atmosphere, picket tiles are available in a range of colors, finishes, and styles.
With picket tiles, the choice is yours on whether you want to go for a vertical picket tile backsplash or a horizontal picket tile backsplash. Moreover, with large picket tile and small picket tile options available, you have the freedom to choose the ideal design for your kitchen.
1. Turquoise Picket Tile
This turquoise picket tile starts off our list with a colorful and bold kitchen backsplash design. Although it is laid as a picket tile backsplash horizontal in the image above, vertical installations also offer a classic and stylish design.
2. Gray Picket Tile
For the lovers of minimalism out there, then you can't go wrong with this muted gray picket tile backsplash. It matches perfectly with a range of different cabinetry and countertop designs, including white, black, or something more colorful.
3. Muted Green Picket Tile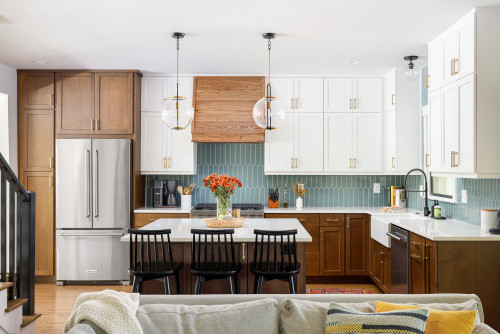 Photo by Carl Mattison Design – Search kitchen pictures
Green backsplash tile designs are one of the most popular interior design looks of the year, and this green picket tile kitchen backsplash is certainly no exception.
4. Alternating Picket Tile Backsplash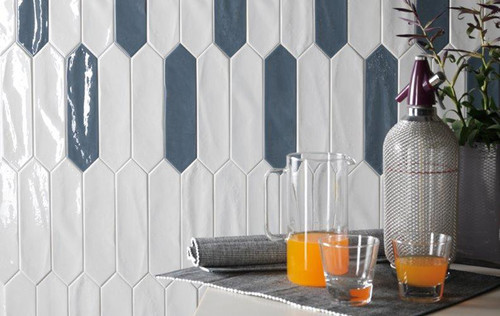 Photo by Home Carpet One – Search kitchen design ideas
Mixing and matching tile colors is our favorite way of adding a unique and artistic design element to homes. Consider how this muted blue picket tile adds a pattern to this classic white picket tile backsplash.
5. Beige Picket Tile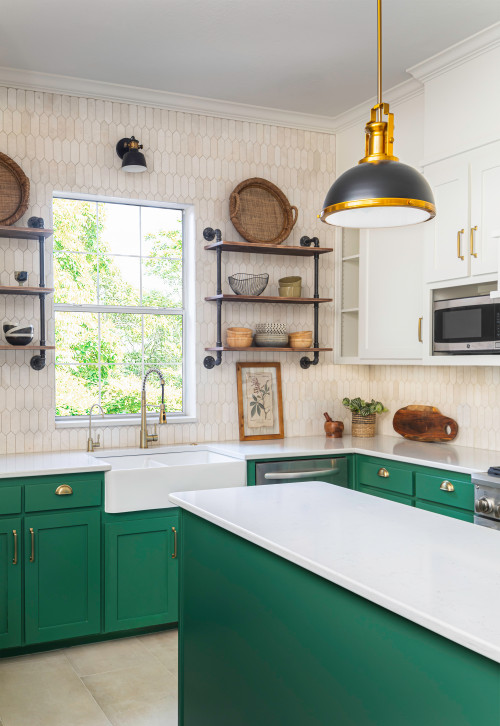 Photo by Ruthie Staalsen Interiors – Search kitchen design ideas
Ideal for countryside cabins or seaside getaways, this beige picket backsplash tile has a soothing, natural aura. Pair with wooden cabinets or earth tones for the ultimate natural look. Embrace the look of a beige ceramic picket tile or go natural with a limestone picket tile.
6. White Picket Tile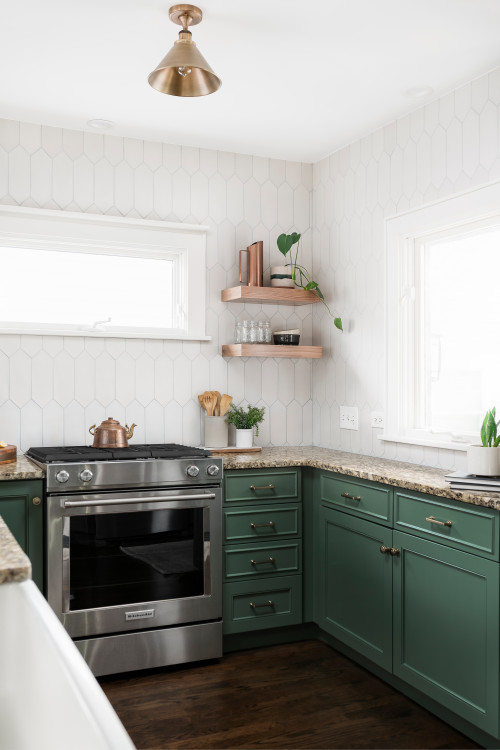 Photo by Esslinger Design Company – Look for kitchen pictures
Monochromatic white kitchens are a classic for a reason. This stylishly understated white picket wall tile is a large picket tile for a bolder look. For a touch of elegance, consider going for a white marble picket tile. Browse our entire line of white tiles for more design options.
7. Pastel Blue Picket Tile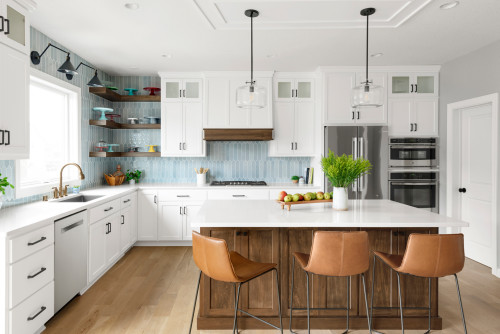 Photo by White Birch Design, LLC – Search kitchen design ideas
A pastel blue picket tile adds a unique charm that airs out kitchens and adds a certain lightness. Going for a pastel color is a great way of creating a welcoming atmosphere in your kitchen.
8. Glass Picket Tile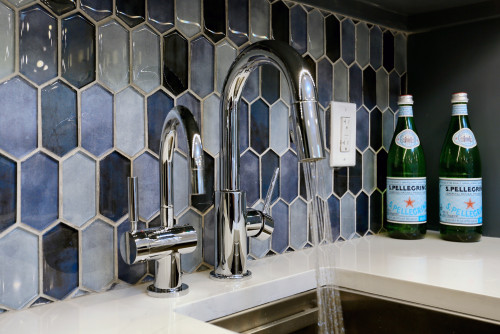 Photo by Mint Development Group – Search kitchen design ideas
Glass picket tiles has a reflective look that diffuses light throughout kitchens, making them seem airy and bright. The glass picket tiles pictured above alternate in different shades of blue, creating an artistic and quirky design.
9. 3D Picket Tile
If you're seeking a more unique picket tile, then this white reliefed picket tile has a striking pattern that forms a pleasing symmetrical pattern that adds dimensions to rooms. Add a stylish spin on a classic white picket tile backsplash look with this 3D tile pattern.
10. Dark Blue Picket Tile
For a darker, more modern look, this marine blue picket tile offers a sleek and contemporary design. The horizontal picket tile design has the added benefit of making a space seem wider and more spacious.
10. Forest Green Picket Tile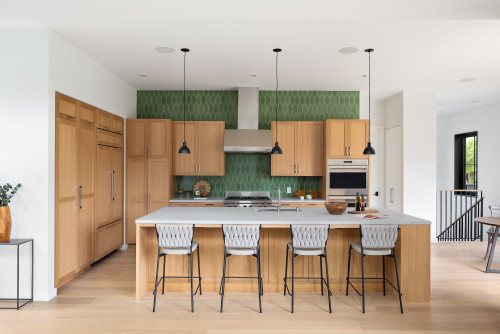 Photo by John Lum Architecture, Inc. AIA – Browse kitchen ideas
The rich, earthy tone of this green picket tile is simply stunning. For anyone seeking an organic kitchen design, then this picket tile backsplash vertical design is a great fit. Notice how the shade of green pairs perfectly with the light wood cabinets and simple white accents.
12. Horizontal Picket Tile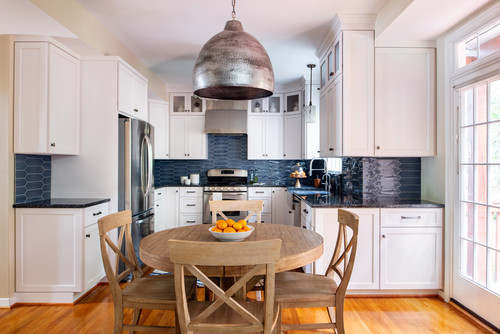 Photo by Melissa Mathe Interior Design, LLC – More kitchen photos
We finish off our list with this dark navy polished ceramic picket tile, which pairs beautifully with the bright white cabinets. Another one of our modern picket tile kitchen backsplash designs, this tile works well with modern interiors.
Shop Picket Tiles Online
Stone Tile Depot offers a range of stylish and affordable picket tiles available to shop online at discounted prices. Shop our entire range of picket tiles and kitchen tiles online today.
For more kitchen design ideas, check out our blog posts: