Gorgeous Bathrooms With Hexagon Tile Floors
When it comes to bathroom floor ideas, nothing beats the look of hexagon floor tiles. A classic for good reason, these tiles come in a range of different sizes, colors, finishes, and materials such as marble, ceramic, glass, porcelain, and more. Either way, modern hexagon tile bathroom looks offer a stylish, contemporary take on a classic design.
The right kind of bathroom floor tile material for you depends on factors like appearance, durability, hardness, and maintenance. Marble hexagon tiles are a beautiful, hardwearing tile with an inherent elegance. However, they do require more maintenance. On the other hand, porcelain hexagon tiles are a hardwearing and low-maintenance choice. A pick like ceramic hexagon tiles is a classic, affordable option that comes in a stunning range of colors and patterns.
1. Large Format Marble Hexagon Tile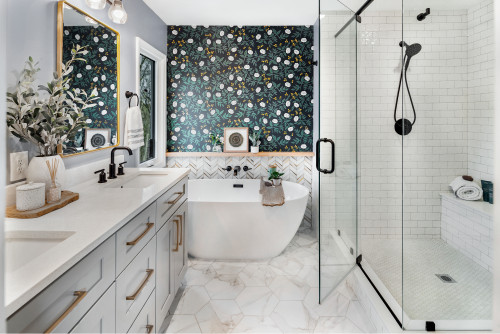 Photo by Muse Residential – Search bathroom design ideas
Number one on the list is one of our personal favorites. This large-format marble hexagon tile for bathrooms instantly upgrades spaces with a glamorous, stylish look that recalls art deco interiors.
2. Retro Hexagon Tile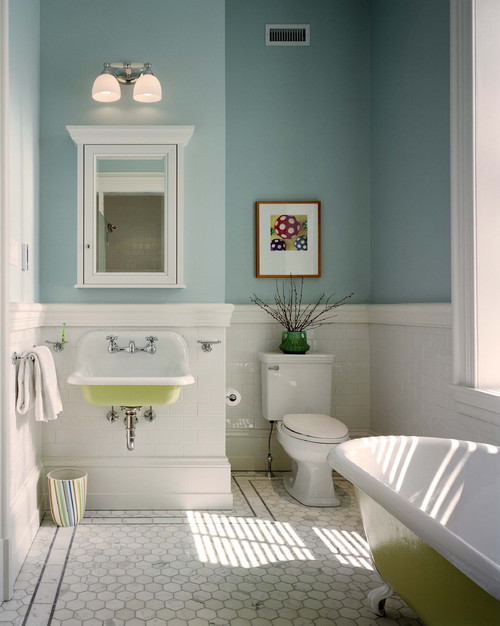 Photo by Hanson Fine Building – Search bathroom pictures
For those who love the look of vintage bathrooms, then this hexagon tile floor design is certainly for you. The small-format marble hexagon tile pairs well with the vintage-style bathroom appliances. For more ideas, browse our entire collection of white tiles.
3. Glass Hexagon Tile
This glass hexagon tile offers a more modern hexagon tile bathroom look with its cool-toned, alternating colors. Pair with industrial interiors or sleek interior design styles.
4. Veined Marble Hexagon Tile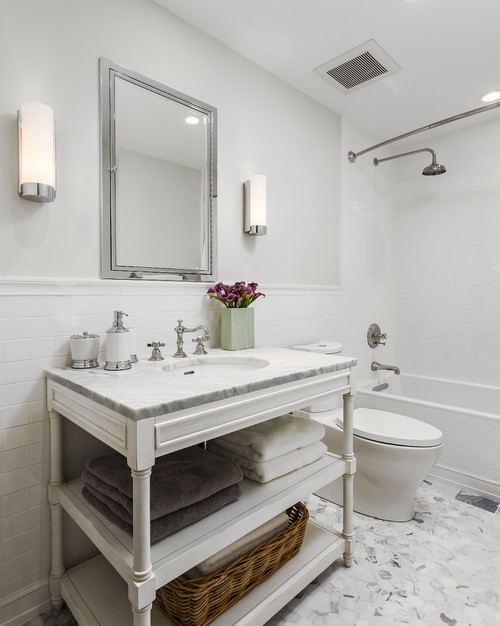 Photo by Robert Frank Interiors – Look for bathroom design inspiration
Showcase the stunning natural beauty of marble hexagon tile with a traditional hexagon tile for bathroom design. The marble shown above has an alluring veined pattern that creates a distinct look.
5. Black Hexagon Floor Tile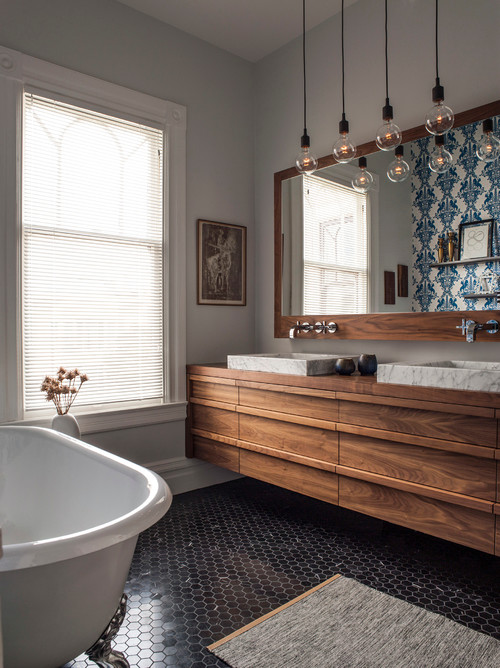 Photo by Hart Wright Architects, AIA – Browse bathroom photos
A sleek black hexagon tile bathroom is instantly stylish. Contrast with a black floor and white wall for the ultimate contrasting, bold bathroom design.
6. Multicolor Hexagon Tile
To add dimension to bathrooms with hexagon tile floors, then consider going for a glass mosaic hexagon tile with an alternating color design. It adds a stunningly unique design element.
7. Black & White Hexagon Tile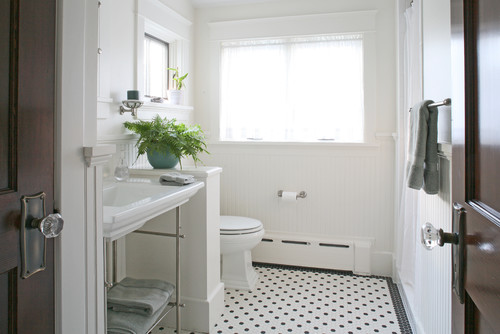 Photo by Brennan + Company Architects – More bathroom photos
We love the vintage look of a black and white hexagon tile, and the image pictured above is no exception. Embrace classic style with a charming black and white hexagon tile bathroom.
8. Black Hexagon Tile with White Grout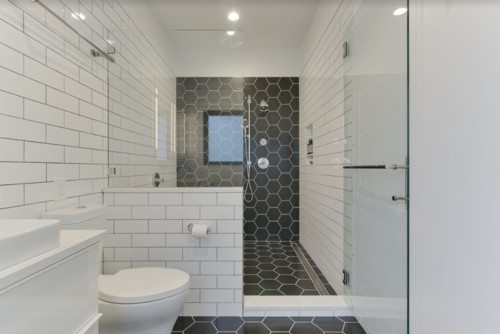 Photo by Let's Remodel – More bathroom ideas
The contrasting design of black hexagon tile with white grout highlights the stylish shape of hexagon tiles. This black hexagon tile shower has wall-to-ceiling tiles for a streamlined and sleek look.
9. Gray Marble Mosaic Hexagon Tile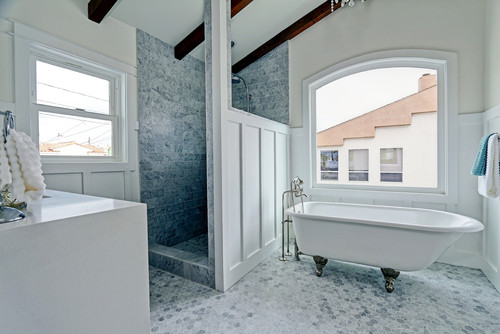 Photo by Noelle Interiors – More bathroom photos
A gray hexagon floor tile offers a streamlined, cleanly look that creates a balanced atmosphere in bathrooms. Pair these gray marble hexagon mosaics with white walls and steel faucets for complete harmony.
10. Colorful Hexagon Tile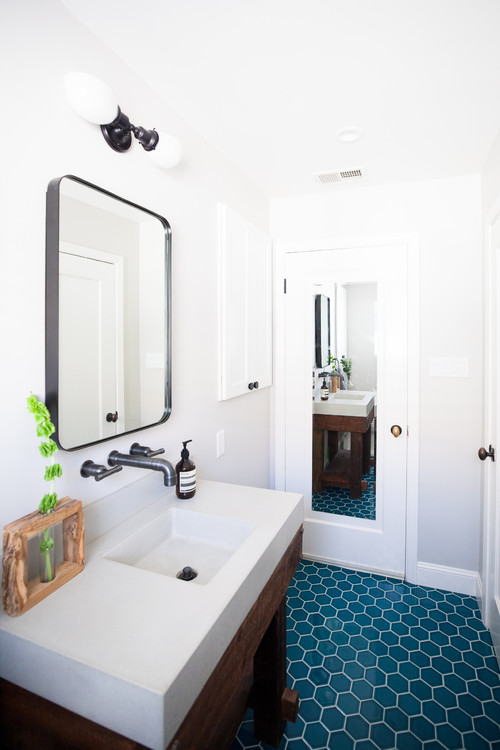 Photo by Fireclay Tile – Look for bathroom pictures
If you want to fully embrace color, then go with a colorful hexagon mosaic tile like this cool-toned marine blue hexagon tile floor. This bold hexagon floor tile creates an effortlessly stylish look in this bathroom.
11. Gray Hexagon Floor Tile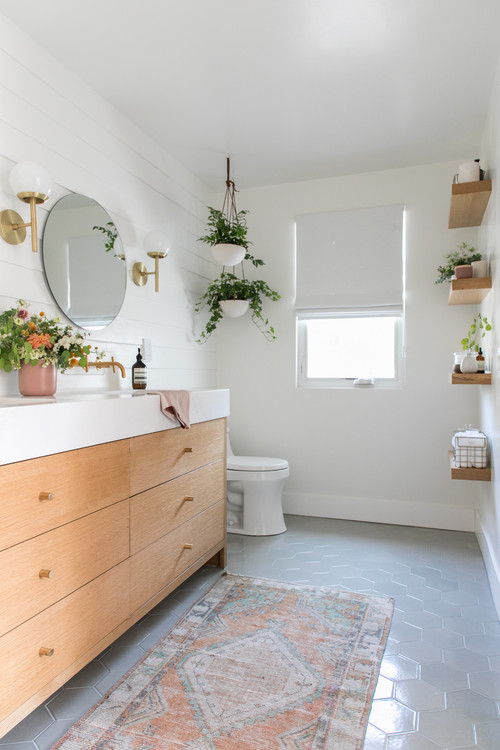 Photo by Fireclay Tile – Look for bathroom design inspiration
Gray hexagon tile bathrooms are one of the most popular design ideas of this year. Gray hexagon tiles made from ceramic and porcelain offer affordable and stylish bathroom tiling options.
12. Monochromatic Black Hexagon Tile
A monochromatic black bathroom has a luxurious, polished aura that's certainly striking. This black tile and white grout look takes the entire design to the next level, offering high contrast. For a more uniform design, consider going for a black hexagon tile with black grout idea.
13. Matte White Hexagon Tile Floor
A matte white hexagon tile floor is the perfect blend between artistic and practical. Easy to clean and with anti-slip properties, it's the ideal hexagon bathroom floor tile.
14. Natural Beige Hexagon Tile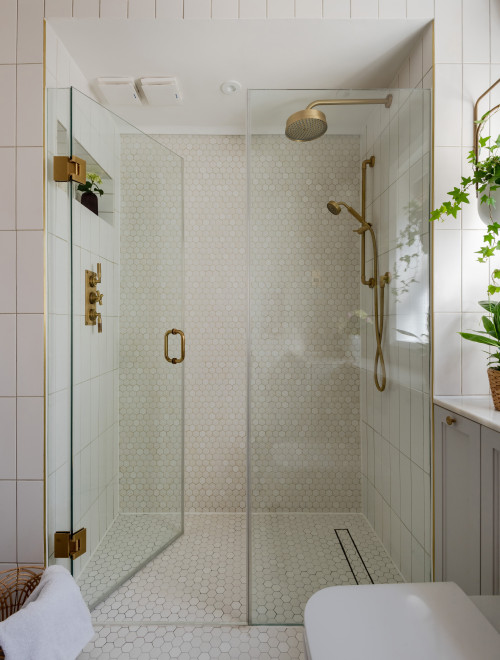 Photo by Uplifting Interiors – Discover bathroom design ideas
Who says hexagon tiles cannot have a natural, organic look? Going for a beige hexagon tile made from marble or limestone offers a more welcoming, warm design. This hexagon tile shower wall has a floor-to-wall design that's utterly stylish.
15. Contrasting Hexagon Tile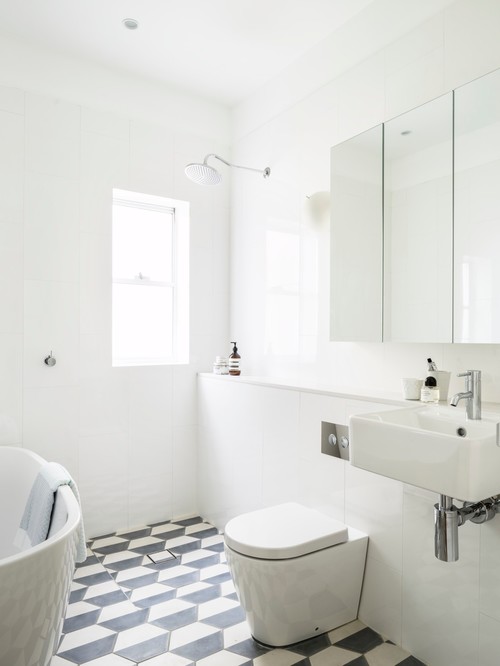 Photo by Decus Interiors – Look for bathroom design inspiration
For a unique take on classic hexagon tile floors, consider going for a contrasting hexagon tile like the one shown above. It recalls alluring midcentury designs.
16. Small White Ceramic Hexagon Tile
This elegant, understated white hexagon floor tile is the definition of modern. We love these hexagon tiles in bathroom due to their monochromatic look, which is complete with the white sink. Ideal for those who love the minimalist look.
Shop Hexagon Tiles Online
Stone Tile Depots offers a wide selection of stylish and affordable hexagon floor tiles for bathrooms at special discounted prices. Shop our entire collection of hexagon tiles made from marble, ceramic, glass, porcelain, and more. For more options, browse our entire collection of bathroom tiles.
For more bathroom design ideas, check out our blog posts: