The Best Tiles For Outdoor Use
The Best Tiles For Outdoor Use
Tile in and of itself is great for exterior spaces. Many people find tiles to be easy to clean, durable, and ideal for daily use. Tile for outdoor flooring such as patios, decks, and porches must meet specific standards to qualify as suitable for the job. Believe it or not, there is a wide selection of materials that make good outdoor tiles.
It is important to know that not all tiles are equally able to withstand outdoor conditions. Keep in mind your porch, patio or deck will be exposed to weather conditions and temperature fluctuations. This means that you want to choose a tile material that will be water-resistant and tough enough to last.
After reading this list we are confident that you will be able to decide on a suitable style of outdoor tile for your space. Here are Stone Tile Depot's picks for the best outdoor flooring tiles.
What Tiles Are Best For Outdoor Flooring?
Suitable outdoor flooring tiles add lots of style and convenience to patios, decks, porches, and other exterior renovations. With so many suitable materials to choose from, it may be hard to find tiles that will complement your home and boost its curb appeal.
If you are preparing for a home renovation project involving tile, we'd love to help you find the best option.
We've proudly spent decades assisting homeowners with their outdoor remodeling projects. We offer stunning high-quality tiles in various materials for outdoor applications, including:
Patios,
Decks,
Porches,
Stairways,
Basements
After seeing the benefits of having each of these types of outdoor flooring tiles, you should be ready to make the optimal choice for your remodel. The other outdoor tile ideas are also available in our blog.
Porcelain Tiles
Porcelain tiles are usually rated high for outdoor flooring. The material of porcelain is a hardened clay able to withstand the harsh demands of the outdoors. In addition to that, porcelain tiles are dense, and sturdy, and will hold up exceptionally against outdoor elements. Porcelain tiles can also mimic other types of tile and be a great alternative to more expensive options like marble and granite.
Be aware that some types of porcelain aren't suited for outdoor use. The outdoor porcelain tile types that will work as well outside are textured and matte. Glossy finishes on porcelain tiles will become very slippery when wet which creates a falling hazard. You won't want your family or guests injuring themselves therefore you should opt for textured porcelain that will provide high traction.
While porcelain is known as a type of ceramic tile, you should avoid using standard ceramic tiles for outdoor projects. Standard ceramic tiles generally don't have the density to hold up well outdoors. However, the true type of porcelain tile can create an elegant vibe for your outdoor area, click for an outstanding outdoor area with our porcelain pavers!
Slate Tiles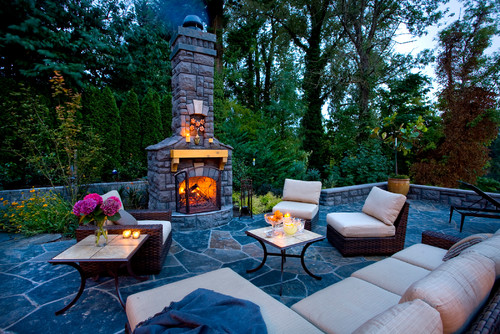 We can name plenty of reasons why slate tiles make a great choice for outdoor floor tiling. Slate tile adorns patios, decks, and porches beautifully. Slate tile is also revered for being remarkably strong as well as water-resistant. While other types of natural stone tiles are too slick to walk on safely when wet, slate tiles can be made safe. Slate tiles with a textured finish will provide the right traction for outdoor use.
Another notable advantage of slate tile is the variety of colors available. Homeowners tend to think of slate as being limited to dark gray shades or black, but slate also comes in more vivid shades.
Slate outdoor floor tiles are excellent in the right weather conditions, but they can become brittle in dry regions. Slate tiles can also chip if heavy objects are dropped on their surface.
Granite Tiles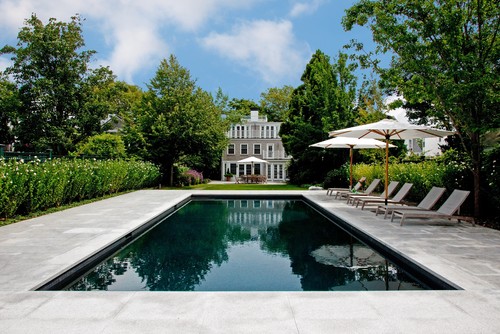 Aside from porcelain,
granite tile
may be the most durable material used in outdoor tiling projects. Granite is certainly harder than the other types of natural stones available. Granite outdoor floor tiles are extremely resilient and durable. Granite tiles are particularly great for parts of the world that experience significant shifts in weather as seasons change.
The number of colors and patterns available in granite tiles is also plentiful. Coming in a broad range of shades, from stark white to rich red to black. You can find granite tile in virtually every shade.
Granite tiles have a ton of benefits for outdoor use, however, it has some downsides. Granite tiles are usually finished with a high polish, making them more dangerous than other outdoor floor tiles to walk on when wet. Granite tiles are also slightly porous so they will need to be sealed at least annually, to prevent moisture damage, wear, and stains.
Marble Tiles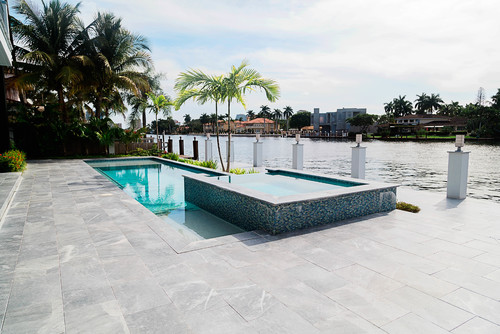 Over the years, marble tile has remained a classic choice for creating stylish, luxury décor. Marble tile makes an excellent choice for interior or exterior applications. There are countless color options available, plus marble boasts a unique veined appearance that can turn your outdoor deck or patio into a visual masterpiece. Using decadent marble tile will undoubtedly enhance outdoor elegance.
Nothing else in today's market conveys sophistication and style quite like marble tile. Smooth, polished marble tiles may appear to be a chic option however, you'll want to go with a slip-resistant finish for this outdoor stone floor tile. Safety must always be at the top of the list when planning a home renovation project, especially in high-traffic areas.
It's important to mention that marble flooring tiles are also somewhat porous. Much like granite tile, you will need to reseal marble tiles regularly. This will protect them from heavy foot traffic wear and the harsh outdoor elements.
Cement Tiles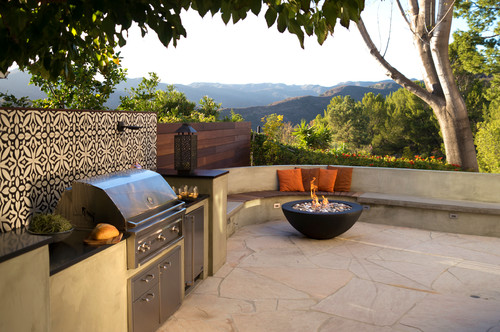 We think it's important to note that cement tiles don't have to be dull, drab, and bland. Cement tiles for the outdoors can be molded and finished with textured along the surface. The finishing gives cement tiles the appearance of a natural stone or genuine porcelain at a fraction of the cost of those materials. Believe it or not, you can find cement tiles that have almost any pattern or texture you desire. Our selection of cement tiles offers lots of variety and durability.
Cement outdoor flooring tiles are also capable of handling weather fluctuations, seasonal conditions, and heavy foot traffic. You can rest assured that your cement tiles aren't getting slick from moisture conditions.
One of the only potential downsides to using cement tile is that, similar to marble and granite, cement will need to be resealed every few years. With proper sealing, your cement tiles will function their best for decades.
Patio Tiles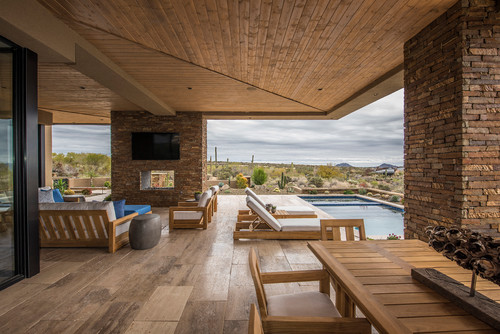 As far as patio tiles you cannot go wrong with outdoor floor tiles that mimic wood. If you are into the examples mentioned above then you can simply choose from those materials according to your aesthetic needs, desired upkeep methods, and region.