Black Glossy Tile Ideas To Use in Your Home
Imagine using a black glossy tile to style your very next interior design project. You can use these exquisite and unique-looking tiles to transform any space you choose and add a touch of regal beauty to the space. Below you will find the best of the best when it comes to creating the aesthetic of your dreams when you incorporate glossy black tile into your home.
What are black glossy tiles?
Glossy black tiles are exactly what they sound like. They are tiles of different natural and factory-made materials that are either naturally black or painted black. You can find glossy black tile in various materials – some of the most popular include black marble tile, black granite tile, black porcelain tile, and black ceramic tile.
What are the benefits of black glossy tiles?
1. Aesthetics
The benefits of glossy black tile are numerous. First, black tile is incredibly chic and visually appealing. The color black is very bold and often underused in interior and exterior design.
2. Elegant and sophisticated look
Black glossy tile is supremely elegant and sophisticated. The look of black tile in space speaks volumes about the person (or people) who envisioned the final result. If you desire to create a room that also serves as a showpiece then you may want to consider using black tile in your next home project.
3. Easy to clean and maintain
The glossy black tile is similar to other items that are black in color with respect to maintenance. Black glossy tile is exceptionally easy to maintain. It is a very dark hue, so there is little to no worry about staining. The finish of the black tile also makes cleaning a breeze as long as the proper products are used. Many people assume that black tile is high maintenance but come to find that the opposite is actually the reality.
4. Durable and long-lasting
Black glossy tile looks lovely in home spaces. It is also long-lasting and durable. Not just in function but also in visual currency. The versatility of glossy black tile means it will look beautiful with many different decor styles. You can transition to an entirely different decor scheme without worrying about needing to change your tile.
5. Create a unique look for your home
We cannot stress the uniqueness of black tile enough. It truly is a wonderful way to add a long-lasting pop of color to your interior. If you need inspiration for a black glossy wall tile or black glossy floor tile, then look no further than our selection of high-quality materials.
What are the things to consider when choosing black glossy tiles?
There are several key aspects to choosing black glossy tiles. Before you make your decision you should consider the following. The black and white tile bathroom absolutely looks classic and modern.
1. The size of the tile
The size of the tile matters. Large tile applies to both and small spaces, while small tile can make small spaces appear cramped. There is usually one exception – black penny tile. Black glossy penny tile is a great choice for spaces of all sizes because it is versatile and sleek.
2. The shape of the tile
Black glossy tile is not one size or shape fits all. In fact, black tile comes in lots of exciting shapes and sizes so they can be used to suit many tastes. Consider this when choosing a black tile to show off in your home. You can do classic with black square tile or glossy black subway tile. You can take a more unique route and use a hexagonal or another geometric-shaped black tile.
3. The finish of the tile
No matter what space you are planning to design, consider how the finish of the tile will impact your final result. Glossy black tile looks sleek and adds a rich sheen to spaces. If that is your desired outcome, then you will love black tile. But you might also consider a matte finish for a more minimalist look. Check our matte black tile design ideas.
4. The price of the tile
Depending on the material selected, your black glossy tile can range from moderate to expensive. Porcelain and ceramics are on the lower end, while stones like marble and granite are pricier options.
Where to use black glossy tiles in your home
This is simple! You can use glossy black tile wherever you want. Don't be afraid to use black tile anywhere you want a deep pop of contrast. Make use of this unique color as black glossy floor tile, glossy black tile backsplash, and glossy black wall tile. Go one step further can use glossy black tile to fully transform your bathroom or shower.
Black Glossy Tile Ideas
Here are some sophisticated style ideas for you to consider.
1- This Charcoal Glossy Picket Ceramic Tile screams bold in this bathroom paired with crisp, white grouting.
2. This lovely black and white tile combination is a classic pairing. Black glossy subway tile looks stunning against white subway tile. Our Charcoal Glossy Ceramic Tile is featured in this chic washroom.
3. We got swept away looking at this hexagon black tiled bathroom. Our Charcoal Glossy Hexagon Ceramic Tile absolutely shines here. Amazing black tile bathroom with a hexagon shape to add some personality to your walls.
4. Our Charcoal Glossy Diamante Ceramic Tile was applied geometrically in this modern kitchen for maximum visual impact. How stunning!
5. This black glossy kitchen wall shows that black tile can be very eye-catching. Our Charcoal Glossy Chevron Ceramic Tile is so captivating. Black backsplash tile makes your kitchen even more attractive.
6. Go for texture and sheen with this glossy black subway tile. Our Neron Glossy Porcelain Tile is a dream in person.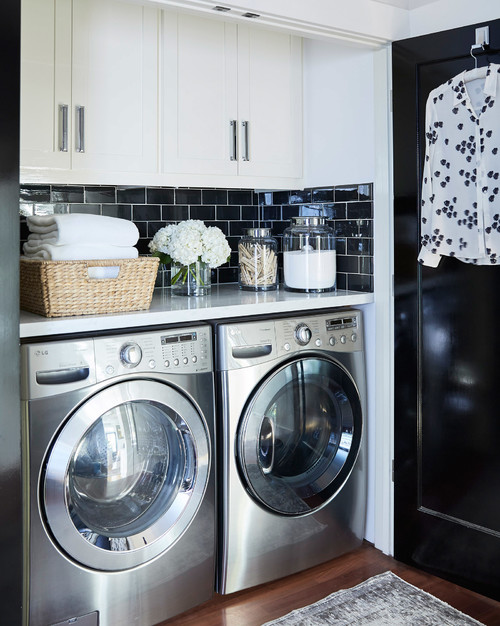 This lovely transitional laundry room features a pop of chicness with a glossy black subway tile backsplash to match its black door.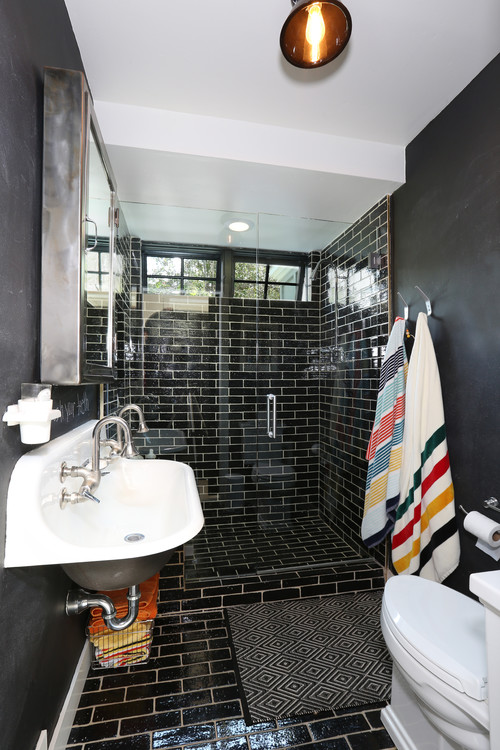 This contemporary bathroom features glossy black subway tile on the shower interior and flooring.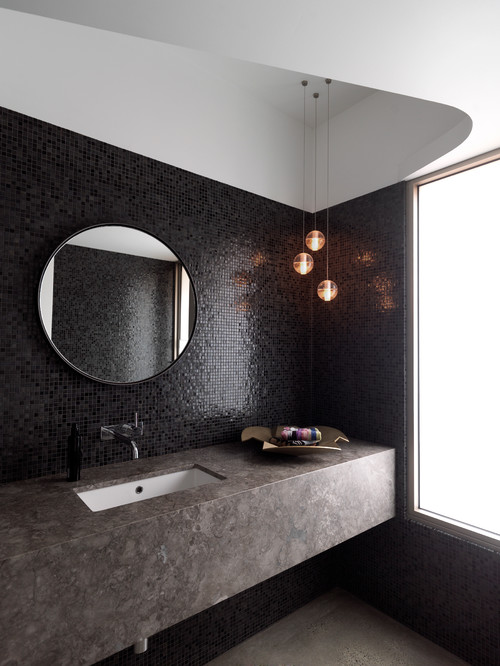 The walls of this stunning dark bathroom are covered in a glossy black tile mosaic that gives moody energy.
How to care for black glossy tiles
Care for your black tile according to their material and finish specifications. Black clay-based tiles will need different care than black natural stones. Carefully research the material and finish of your chosen tile to prepare to make your tile last for years to come.
Get inspired by our beautiful glossy black tiles, and choose the size, style, and finish that will bring your home into its next chapter. We have many lovely options available.