10 Kitchen Floor Tile Ideas & Tips
Kitchen floor tiles are a staple design option in floors all across the world. Thanks to modern-day advancements kitchen tiles come in a wide array of colors, shapes, sizes, and textures. The key to choosing the best kitchen tiles for your space comes down to your budget, space layout, and aesthetic goals. Learn more about the most popular materials for kitchen flooring below. Then get some design inspiration from our kitchen floor tile ideas and tips list to decide which type of tile will work best in your space.
Types of Tiles for Your Kitchen Floor
The following kitchen tile types are beautiful, functional, and hardwearing options for even the most heavily lived-in kitchens. Using one of these materials for your kitchen floor renovation can help you create an incredibly stylish kitchen. The price point on these materials ranges in price. Therefore you can choose to go with a luxury stone material or choose an equally modern non-stone material that's more practical.
Marble Tiles
Marble is a natural stone material formed when a combination of intense heat and pressure causes limestone to crystallize. Marble is sourced from all over the globe through mining, so the price varies depending on its type, color, and country of origin. Marble tile is also more expensive than clay tiles ( ceramic and porcelain). Marble floor tile kitchen exudes elegance and instantly elevates the spaces to luxury places when installed.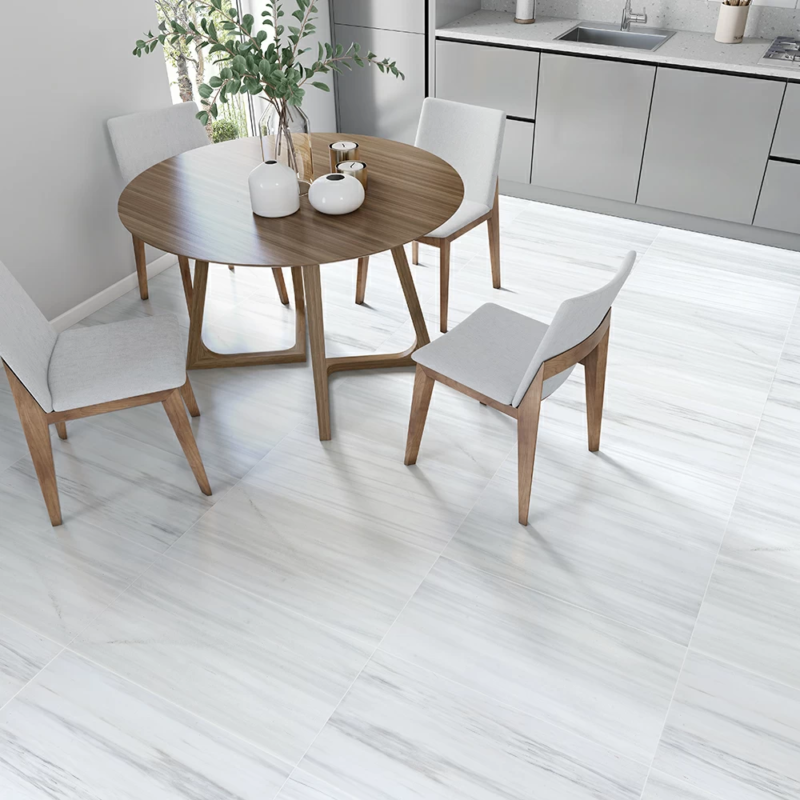 The opulence of the Bianco Dolomiti Collection, for example, showcases brightness, simplicity, and beauty suitable for classic and contemporary kitchens. The polished and honed marble in this collection is perfect for those who desire a crisp and sophisticated minimalist aesthetic. In addition to the kitchen floor, Bianco Dolomiti tile can be installed on kitchen walls, and as a kitchen backsplash.
Porcelain Tiles
Porcelain tile is made when extreme (temperatures of 2,300 to 2,400° F) heat is applied to clay. Through this intense heat, porcelain takes form and becomes sleek, dense, and smooth – porcelain is also non-absorbent. Porcelain tile has uniform color and texture all the way through and comes in polished and unpolished versions and is a great example of kitchen tile floor ideas. The sturdiness of porcelain makes it ideal as an indoor and outdoor floor tile. Porcelain is also excellent as a material for fireplaces because of its high heat tolerance.
As a kitchen floor tile, porcelain is incredibly durable and will withstand years of traffic from family members, while maintaining its beauty. Porcelain can cost more but the long-lasting nature of the material is a worthwhile investment.
Ceramic Tiles
Often confused with porcelain, they are actually more like cousins. Ceramic tile is also made from clay, but it forms at a far lower temperature. The lower heat point for ceramic means it is porous (or it absorbs water) which makes it less ideal as a bathroom tile and kitchen tile. Ceramic isn't water-resistant so over time wet floor tiles may begin to shift, lift, or break down. Ceramic tile while porous is highly scratch and stain-resistant so it is still great for high-traffic spots like mudrooms, and hallways.
Ceramic tile comes in a plethora of colors and patterns and textures. Finished ceramic tile can be either glossy (glazed) or matte (unglazed). Ceramic tile is also more affordable than porcelain tile while providing comparable beauty to installed areas.
Alternate Stones, Clays, And Materials For Kitchen Flooring
The aforementioned primary types of kitchen tiles are lovely and worthwhile if they are within your budget. However, in addition to marble, porcelain, and ceramic tiles other types of natural materials make great kitchen flooring options. Granite tile, travertine, slate tile, wood tile, and terracotta all have unique qualities that make them exceptional tiling options for kitchen floors. Terracotta tile kitchen floors are clay tiles that are non-absorbent, slate and granite tiles are durable, and travertine tile is naturally non-slip. Wood flooring is still in high demand in kitchen spaces. While it can last a lifetime, it will require much more maintenance than stone and clay tiles. The stone tile kitchen floor is the most durable option.
Kitchen Floor Tile Ideas and Tips
If you are in search of inspiration for your new kitchen, you have come to the right place. Below are 10 of the latest and greatest kitchen tile floor design ideas. The tips on this list are sure to spark a sense of creativity that you can utilize as you plan and design your new kitchen.
Small Kitchen Floor Tiles
Both ceramic and porcelain floor tiles are great for the small kitchen floor aesthetic. Decorative tiles on floors create lots of visual contrast and make the flooring appear more dynamic. If you desire grout that pops against your chosen tile color, then small tile panels will help you achieve that goal. Dark-colored grout against brightly colored tile is one example of how to pull off the small tile look.
Herringbone Tile Kitchen Floors
Herringbone tile for the kitchen floor is an amazing upgrade to a kitchen space. The vivid zig zag herringbone pattern is a growing trend in kitchen design, with a long-term appeal. Herringbone tile provides an illusion of movement that often helps a kitchen appear bigger. If your kitchen has a narrow layout a herringbone tile floor pattern is a perfect choice. Choose from wood planks, tile, or brick to pull off the look.
Geometric Tile Kitchen Floors
Geometric kitchen tile is another eye-catching design option for those who love the intricacy and visual flair. Geometric shapes and patterns on kitchen floors look amazing against solid-colored cabinetry and sleek metal fixtures. If you desire your floors to be the star of the space, consider a diamond, hexagon tile, rectangular, or triangular-shaped floor tile for your kitchen.
White Tile Kitchen Floors
White tile is the ultimate classic choice for kitchen flooring. Clean and airy white kitchen floor tiles create the perfect canvas for pops of color or other bright kitchen accents. It is important to note that when choosing white tile for kitchen floors, the material choice is crucial. White porcelain tile is optimal because it is durable and easy to maintain. Porcelain tile only needs regular sweeping (or vacuuming), and monthly (or bi-weekly) mopping with a gentle cleaning solution.
Gray Tile Kitchen Floors
Gray tile kitchen floors are a stylish and unique take on adding color to kitchen floors. Gray tile looks amazing in any area, but in kitchens, it is especially novel. If white kitchen tile is not your style, a muted or even deep gray tile is a great alternative that will keep your space from feeling small or closed in.
Black Tile kitchen floors
On the opposite end of the visual design spectrum, black tile for kitchen floors is a dramatic choice that makes a bold statement. Black kitchen floors can actually brighten a space when paired with white or neutral cabinets. The dark tile kitchen floor can create a moody or relaxing atmosphere when paired with bold colors or doubled with dark-toned cabinetry. Black is a daring concept for kitchen tile, but when executed properly looks fantastic.
Blue Tile Kitchen Floors
Keeping with color, blue tile for kitchen floors is a unique choice. Blue comes in seemingly limitless shades and based on the choice of material, and pattern blue tile can make your kitchen floor appear as if you are walking on water, or strolling on a majestic stone path.
Large Tile Kitchen Floors
Large tile on kitchen floors creates the opposite effect of small tile. Large tiles make spaces of all sizes appear bigger. Install large tiles in kitchens of grand or compact proportions to make them look more open. With larger format tiles you have fewer grout lines so this too enhances the illusion. In addition to their visual benefits, large tiles cut down on cleaning due to less grout that needs scrubbing.
Peel and Stick
Peel and stick tiles are not ideal for kitchen areas but can be very beautiful when properly installed in the kitchen. Another major benefit of peel-and-stick kitchen tiles is their variety. You can find stick-on kitchen tiles in a wide array of colors, patterns, and styles.  Of course, they aren't durable because they can be torn easily.
Wood-Look Tile Kitchen Floors
If you like the look of hardwood flooring but don't like the idea of major upkeep then wood-look tile for the kitchen is the way to go. The aesthetic of wooden floors is highly desired so with the wood-look tile you can get the best of both worlds. Go for a lighter wood to make your kitchen look bright, and or a darker shade to add warmth to the space.
Is There A Best Tile For Kitchen Floors?
When it comes to deciding which material is best for kitchen floors, you have to consider how you plan to use your kitchen and which functional aspects are most important. If you have kids or pets, do lots of cooking, or are a bit accident-prone these factors should be included in your final decision.
Travertine tile or marble, no matter what type of tile you use in your kitchen. Stone Tile Depot is the best place to purchase your tile. We offer the best prices, and the best deals on slate, ceramic, marble, porcelain, terracotta, and granite tiles. Check out our tile selections to get more information on our affordable, high-quality tiles for your new kitchen floor.