Modern Kitchen Tile Designs For 2023
With so many kitchen tile designs, sourcing kitchen floor tiles or wall tiles can be confusing. These modern kitchen tile designs will inspire your next kitchen renovation project. Also, to explore more kitchen floor tile ideas and tips, please take a look at our blog!
The choice between kitchen tiles and backsplashes is endless, making it challenging to pick the top-end option. We have you covered regardless of what you need to do to improve your kitchen decor.
We have excellent kitchen backsplash tiles for your home to inspire your home's kitchen design. Furthermore, we will explore some handy kitchen design tips to create your perfect kitchen. Picking the right ones is vital for getting the best results, which is why we will take a quick look at some of the best ceramic tile ideas for 2023, covering a broad selection of options.
Which tiles are best for kitchen walls?
Ceramic tile is commonly used as a floor tile in kitchens. Glazed ceramic tile is mainly used on walls. Simple mosaic kitchen tiles enhance kitchen walls and floors. With modern kitchen wall tiles offering modern kitchen tiles design, there are many offerings other than your standard style of Wickes kitchen wall tiles or subway white kitchen wall tiles to choose from. For example, glass tiles for the kitchen have become popular as wall tiles for kitchen backsplash. On-trend kitchen wall tiles include porcelain kitchen floors in stone, marble, and wood.
Do modern kitchens have backsplash?
Modern Kitchen designs feature minimal elegance, streamlined lines, and sleek designs that have become a trend in recent times. As with all modern backsplashes, they feature a backsplash as well.
What are the most popular kitchen tiles?
Ceramic tile is the preferred backsplash option in kitchens. Ceramic tile is very versatile—its sizes, shapes, and colors are varied and may even be used in various styles. Designs like herringbone kitchen tiles and patterned kitchen floor tiles like hexagon-shaped tiles in ceramic, porcelain, marble, and cement have become very popular in kitchen interior design. We creates the most wondered kitchen floor tile ideas lately, see the best-designed tiles examples with images.
What are popular backsplashes?
White kitchen backsplash is the most commonly used and popular choice for kitchens. From traditional white subway tiles to contemporary hexagons, white backsplashes are available in endless varieties, shapes, patterns, and textures.
So let us explore some modern kitchen tile designs for your kitchen backsplashes!
Light Kitchen Tiles Designs:
Every kitchen interior designer knows, as we do at Stone Tile Depot, that the top kitchen tile inquiry is for white tile backsplash ideas, like our Blanco Real Glossy Ceramic Tile 3×6
A classic tile color, an all-white kitchen with white kitchen tiles can make the whole room to be light and spacious. A white subway tiles kitchen is timeless, of course, but you can experiment with different tones of white and light color and shape tiles like our Galala Polished Hexagon Marble Mosaic 10 3/8×12.
Monochromatic Tiles Designs:
Kitchen Tiles Make a Huge Statement
Kitchen tiles are an easy way to add a bold statement. Monochrome modern kitchen tile designs are a timeless color scheme loved by designers for decades. Kitchen walls with a graphic backsplash in a monochromatic design and geometric design like this Una Polished Marble Mosaic 12×13 3/16 add a striking focal point to the whole kitchen.
For unique backsplash ideas in black and white tile, go for hexagonal tiles like this Pola Polished Hexagon Marble Mosaic 12×12, which looks impressive on kitchen walls.
Use Handmade Cement Tiles As Monochromatic Tile Designs
Cement tiles are the best examples of monochromatic tile designs.
Unique and budget-friendly backsplash tile ideas are always available for you at Stone Tile Depot!
Contrast Colors Kitchen Tile Designs: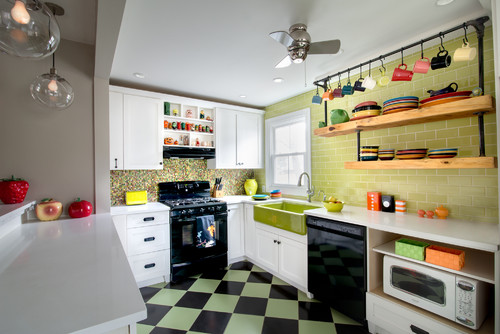 Black and white kitchen tile designs are a timeless choice that adds elegance to any kitchen. One popular design is the checkerboard tile design, which creates a bold and striking look that works well in both traditional and modern kitchens. Another option is to use a combination of differently sized tiles, such as larger black tiles on the floor and smaller white tiles on the walls. For a more subtle design, a mosaic pattern using small tiles in various shades of black and white can be used as a backsplash or on an entire wall. Black and white tiles offer endless design options that can add sophistication, or fun to any kitchen.
Polished Marble Tiles Designs:
When choosing your backsplash a warm polished marble with a hint of warm colors and hues can make a polished marble feel warm and cozy in the kitchen. Try this gray marble floor tile for a warm polished grey marble this looks stunning as a kitchen marble floor tile and pairs well with terracottas and pale wood cabinetry and furniture as shown here.
For warm marble kitchen wall tiles try this Royale Polished Marble Tile 2 3/4×5 ½ in natural sandy earth tones that are very in at the moment and will enrich your kitchen experience from cooking to chatting on the phone, in the favorite room of the home.
Kitchen wall tiles:
Our modern kitchen tile designs can add visual interest and practicality to everyday living. Added above the cooker, sink, all wall areas, under cabinets, and even feature walls to add a focal point.
Select from the natural beauty in stone or use dramatic darks created from glass. Bright whites and shining silvers are modern alternatives to glass tile. Tile mosaics and other mosaic tiles are excellent choices for creating the best quality and the most beautiful. Let us help you find contemporary backsplash ideas that match well with your kitchen decor. There are many tiles that complement any cabinet color and every marble color. Let us find the one that suits your needs. Glass metal tile backsplashes glass tile backsplashes glass metal tile. Don't forget that you can create a bold look with black kitchen wall tiles, as well. Explore black tile ideas now!
When it comes to modern kitchen tile designs then subway tile is a firm favorite like this white ceramic tile. A classic tile for a modern kitchen backsplash, that looks great with quartz countertops and floating shelves or installed below upper cabinets. For a seamless look, a white subway tile with white grout and white cabinetry can create visual interest in artworks or objects in a white kitchen.
If you like the look of subway tiles like this but want something more sophisticated and edgy for your modern kitchen design with dark wood or oak cabinetry consider using a dark grout instead of using the classic pattern horizontal layout. Ask your tiler to install vertically to lift up the ceiling for visual interest. It's the perfect complement to the white cupboard.
A white brick tiles kitchen backsplash never seems to go out of fashion! Use our White Glazed Porcelain Tile 3×6 if you love an extra glossy finish white kitchen subway tile.
Grey tiles kitchen:
Grey tile like this Silver Travertine Honed Filled Travertine Tile 2 3/4×5 1/2 is very stylish and we have modern kitchen tile designs in grey that you will love to incorporate into your modern kitchen. This grey kitchen tile has warmth and texture with rustic charm, that looks very effective paired with natural wood cabinets and white countertops.
A grey tiles kitchen backsplash like these Grigio Glossy Ceramic Wall Decos 4×12 has an urban cool vibe; paired with grey kitchen floor tiles completes the look.
Contemporary kitchen with gray modern backsplash
Gray subway tiles pair well with sleek design cabinetry. Pair with a wooden kitchen table with hardwood cabinets and concrete countertops for a rustic modern look.
Soothing Gray
Designer grey kitchen tiles are very soothing, used with soft natural woods they have that eco look people are drawn to in well-being interiors. Pair with green kitchen tiles to add some colors from nature, as a kitchen tile design idea for 2023.
Cool and Relaxed
For an edgy industrial look, go for a big format grey tile backsplash with a concrete look and pair it with freestanding kitchen furniture with unfinished metal details, for that city loft feel.
Light Gray Cabinetry with Grey Backsplash
Consider using light grey cabinets with a grey backsplash for a cool contemporary look.
Mosaic kitchen tiles:
Looking for glass backsplash mosaic ideas or to add some reflective accents to your modern kitchen? A modern kitchen backsplash mosaic tile like this Metal, Carrara Polished Hexagon Glass Mosaic 11 3/4×11 1/2 has the wow factor and is an on-trend tile design for 2023. Consider pairing it with grey or black cabinets for a show-stopper kitchen. A mosaic tiles kitchen backsplash is a great way to add some design flair to a quick kitchen remodel and is easy to install as it comes on mesh backing.
A mosaic tiles kitchen backsplash is a great way to add some design flair to a quick kitchen remodel and is easy to install as it comes on a mesh backing like this on-trend Bella White Polished Elongated Hexagon Marble Mosaic 10×12 1/4 which looks very elegant and modern as a kitchen backsplash paired with white kitchen cabinetry or even grey kitchen cabinets.
Porcelain tiles for a kitchen backsplash and floor offer lots of modern kitchen options, due to the technology of this surface material, which is why interior designers, builders, property developers, and homeowners love porcelain tile.
For large floor tiles, kitchen porcelain flooring looks sleek, use our Essential Black Matte Porcelain Tile 12×24 pictured above it just shows how stunning these black matte tile floors look.
For those that love their Italian white marble then this Italian white marble look porcelain Venato Polished Porcelain Tile 12×24 is a cost-effective marble look for kitchen tiles on wall and floor areas in the kitchen. When looking for marble kitchen tiles porcelain is a great alternative these days.
Wood-Look Porcelain Kitchen Tile Designs: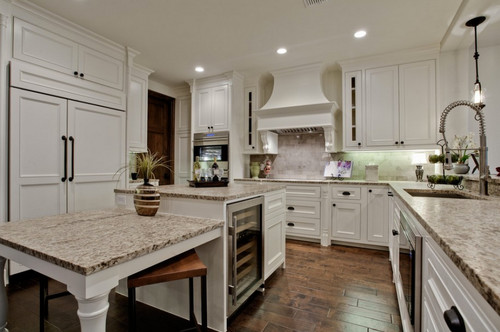 Wood-look porcelain kitchen tile designs are a popular choice for homeowners who want the look of wood floors with little maintenance. Porcelain tiles are durable and easy to clean, making them a practical choice for a kitchen. Wood-look porcelain tiles come in a variety of colors and styles, from light oak to dark walnut. They can be used to create a rustic or modern look, depending on the style of the kitchen. One popular design idea is to use wood-look porcelain tiles on the floor and a coordinating solid color porcelain tile on the walls. This creates a cohesive look that is both stylish and practical. Another option is to use wood-look porcelain tiles on both the floor and walls for a seamless and natural look. Also, you can match them up with blues, greens, reds, and more choices like multicolor tiles!
Green Modern Backsplash Tiles with White Grout
Gorgeous green kitchen tiles like this Emerald Glossy Ceramic Tile 4×12 tile shown here have made a comeback as kitchen tile design colors in 2023. Introduce different greens in your kitchen, with our green tiles in your kitchen, to experiment.
If you love a brick tiles kitchen backsplash then this Verde Glossy Porcelain Tile 3×12 is for you especially if you also love green. For a lush green look add indoor plants to compliment your green kitchen design scheme. Or you can choose a lighter green color like the Frio Longest Hexagon Ceramic Tile.
Blue kitchen tiles:
A white kitchen with a classic blue tile backsplash looks timeless. Combined with blue and white in the modern kitchen design it looks effortless, especially when used across the entire wall of the kitchen. The rich blue and muted blue colors of this blue tile Marine Glossy Grande Ceramic Mosaic 11 1/2×11 1/2 as pictured here, also has a modern appeal, which is why interior designers love adding blue tile to a kitchen space designed for modern living.
This Azzurro Matte Ceramic Tile 4×8 has a washed matte soft blue which looks stunning with pale wood accents as shelves or cabinets in the kitchen. As blue kitchen tiles can be overbearing this tile is a great muted blue option.
Terrazzo Kitchen Tile Designs:
Designs of terrazzo kitchen tile are a trend that is gaining popularity among homeowners. Terrazzo tiles are made of chips of marble, quartz, granite, and glass that are embedded in a cement or resin base. The result is a unique and eye-catching design that can be used on both floors and walls. Terrazzo tiles come in a variety of colors and patterns, from subtle neutrals to bold and colorful designs. Terrazzo tiles are durable and easy to clean, making them a practical choice for a kitchen. They offer a fun and stylish design that can add personality to any kitchen. Using tile terrazzo and beige travertine tile together is also a great kitchen duo to try in your home!
Get in touch today with Stone Tile Depot for your wall tiles for kitchen or kitchen floor tiles ideas!